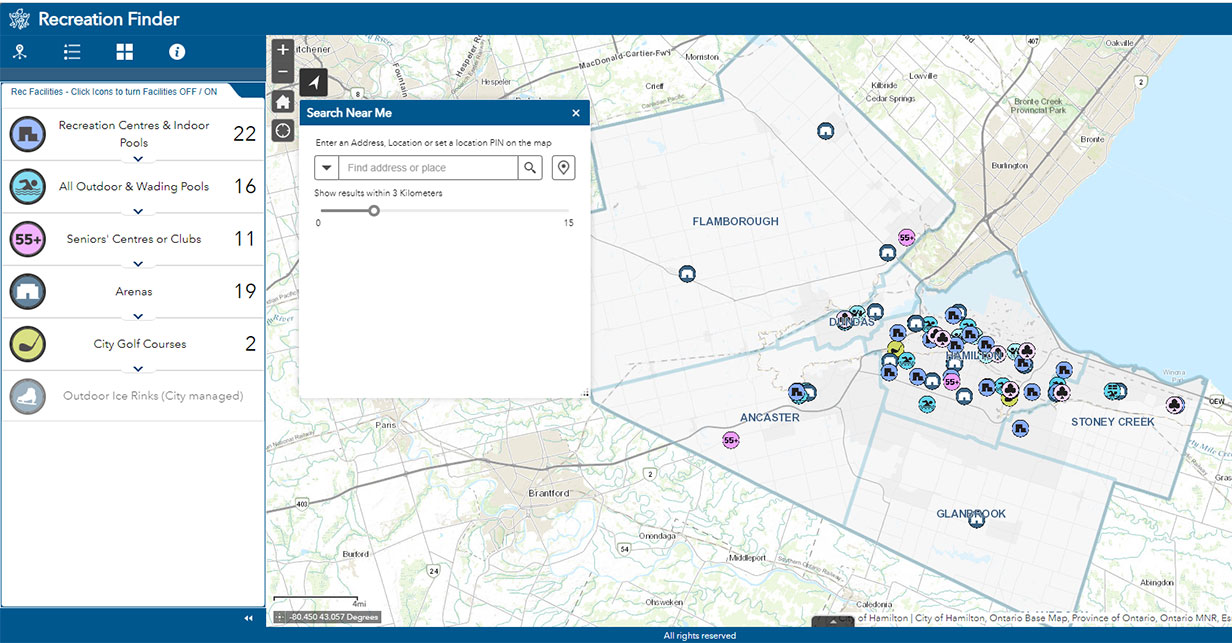 Rec Finder
An easy-to-use interactive web map that shows Recreation facilities across the City of Hamilton and provides links to information such as addresses, amenities, programs offered, and more.
Stay active, safe & healthy
Recreation Program Finder
Browse available programs by name, barcode or category.
Search for drop-in programs by activity or facility.
For a listing of all available drop-in skate sessions, click on the "Program Finder: Drop-in Skate" button for preferred location.
ARENA CLOSURES & PROGRAM CANCELLATIONS
 
2023/2024 season drop-in skating programs will start in mid-October 2023 at these locations:
Beverly Arena
Bill Friday Lawfield Arena
Carlisle Arena
Chedoke Arena
Coronation Arena
Glanbrook Arena
Inch Park Arena
J.L.Grightmire / Market Street Arena
Olympic/Westoby Arena
Parkdale Arena
Rosedale Arena
Saltfleet Arena
Stoney Creek Arena
Valley Park Arena
All Recreation Facilities are in compliance with the Accessibility for Ontarians with Disabilities Act (AODA).  Please see below for specific facility accessibility features.
To view weekly drop-in schedules in program finder/location link, please click on the "Week" button located on the right below the "Search" button.