Child Care Services
Child Care Registry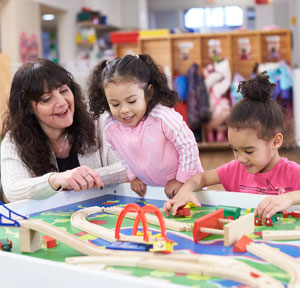 Red Hill Family Centre
Red Hill Family Centre is the City of Hamilton's only municipally funded child care centre. Red Hill Family Centre is a fully inclusive family based child care centre for children 18 months-5 years.

Reduce your costs for child care
Financial support is available to eligible families who live in Hamilton and have child care costs for children ages 0 to 12 years. You can complete the Child Care Subsidy Calculator to confirm if you're eligible to apply.
The Hamilton Child Care Registry makes finding licensed child care providers simple. You can browse child care options by location and age group. You can also view details about a child care program, hours and type of care being offered.
Child Care
Explore your child care options
To find child care, you can search by amenities or your location.
Hamilton is a community rich in quality child care and families are encouraged to research child care choices as options vary. All licensed child care programs with a Funding Agreement with the City of Hamilton participate in Hamilton's Early Years Quality Program.
Learn more about Hamilton's Early Years System and Quality Program.
Learn more about Licensed
Centre-Based & Home Child Care
Licensed child care is governed by the Child Care and Early Years Act. The Ministry of Education provides standards around health, safety and quality experiences for children. Licensed child care is regularly monitored and inspected to ensure they are following Ministry standards.
Date modified
September 05, 2023