Driving & Traffic
Main Street Two-way Conversion Study

Engage Hamilton
We want to hear from you!
On May 18, 2023, we introduced the study and presented the Functional Design Plan Drawings.
We invite you to review these drawings & provide your feedback.
On May 11, 2022, Council approved a motion focused on the development of further safety enhancements on major arterial roads, including the conversion of Main Street from a one-way to a two-way road.
Following this approval, staff have moved forward in developing an implementation plan for the two-way conversion of Main Street between King Street E (the "Delta" intersection) and Longwood Road S. The implementation plan will integrate a Complete Streets redesign that will enable safe use for all road users including public transit passengers, pedestrians, motorists and cyclists and will also incorporate a climate change lens by considering additions such as urban trees and permeable surfaces in the planning process.
Location: Main Street (Longwood Road to King Street)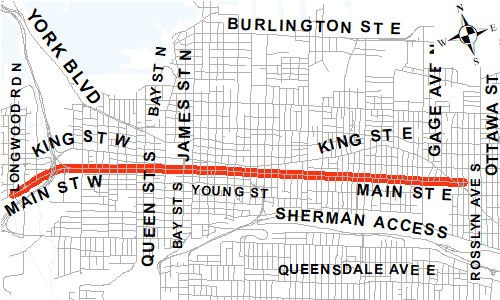 Date modified
June 16, 2023