Dogs
Dog Licence

Hamilton Animal Services and Ren's Pets wish to encourage dog and cat owners to licence and register their pets.
Ren's Pets will generously reward pet owners with $20 to spend at Ren's Pets with each registered pet (up to 4 pets).
Bring your printed Hamilton Animal Services Licence Certificate receipt with the Ren's Voucher to any Ren's Pets location to redeem your $20
You must sign up for Ren's Rewards (Free to join!) to redeem your reward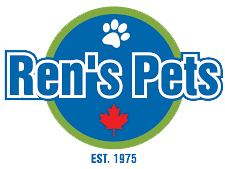 How to
Buy, Renew or Update Your Dog Licence
Visa/Debit and MasterCard/Debit Cards are now an accepted method of payment for online purchases.
Note: We do not accept American Express as a payment method
Buy or Renew a Dog Licence In Person
You can still purchase a new or renew a dog licence in person, by phone, by mail or by fax. Complete the Dog Licence Application Form(PDF, 149.08 KB) . If you need to make a change to your information, contact Animal Services at 905-574-3433.
Municipal Law Enforcement
330 Wentworth St N, Hamilton
Mondays and Wednesdays, 8:30 am to 4:30 pm
Closed on Holidays
Dog Licence
Frequently Asked Questions
The City of Hamilton offers standard and reduced rates for licensing your dog.
Dog Licence Fees
| Type of Dog | Standard Rate | Reduced Rate* |
| --- | --- | --- |
| Altered Dog | $35 | $17 |
| Unaltered Dog | $75 | $41 |
| Puppies (under 6 months) | $35 | $17 |
| Potentially Dangerous Dog/ Dangerous Dog | $360 |   |
* Reduced rates are for dog owners who are 65+ years of age or get a CPP-D or ODSP government disability pension. Proof is required to get the reduced rate if you receive a Government Disability Pension.
Prices are subject to change.
Additional Fees
| Late Fee | $22 |
| --- | --- |
| Replacement Tag | $6 |
| Proof of valid licence from other municipality required for discount | $17 |
Prices are subject to change.
Service Animals
Dog who have successfully completed training by a recognized school for service as a guide animal for the visually or hearing impaired or a special skills animal for other disabled persons get a free licence. You must show proof that will be kept on file.
What are the benefits?
Saves the cost of impound and boarding fees
Reduces the stress a dog may experience from staying at the shelter
Provides for a free ride home once every 365 days, should we or the public find a dog straying from their property
Allows staff to contact the dog owner in case of emergency so they can make vital decisions regarding the care of their pet
Helps maintain leash free dog parks
Complete Change of Animal Ownership Form(PDF, 108.81 KB)
Submit by email to [email protected]. 
Current ODSP & CPP-D recipients can renew licences online.
Police Dog, Service Animal licences and new licence applications for the CPP-Disability (CPP-D) Ontario Disability Support Program (ODSP) discounts are not available online. Please visit Hamilton Animal Services or a Municipal Service Centre with proof of status to complete the application process.  Service Animal licences must be completed with the proper documentation in person at Hamilton Animal Services.
You must obtain a licence for your dog from the City of Hamilton before your dog is three months old and it must be attached to your dog's collar. You must renew the licence every year. If you own, have custody of, or otherwise keep a dog without a licence, you may be charged a fine of no less than $75 and up to $10,000.
Compliance with the Law
You must comply with all federal, provincial and municipal regulations and laws.
All owners must comply with the limit for how many pets you can have. Getting a dog licence is not permission to have more than the allowed number of animals.
Read more about the Responsible Animal Ownership By-law.
Dog Licence Renewal
You are responsible for knowing when to renew your dog licence. All notifications of renewal are a courtesy only.
Refunds and credits for dog licences
Refunds may be requested in the event that an owner pays for their animal licence, and the animal passes away or is euthanized on or before 30 days from the purchase date. The dog tag must be returned with proof that the dog has been euthanized or has passed away. This does not apply to licences that were past due at the time of the renewal. 
You may receive a credit if within 30 days of buying a licence you can show proof that:
the dog is spayed or neutered

you become eligible for a senior or disability pension
Submit refund or credit requests in writing to:
Supervisor of Animal Control Services
247 Dartnall Road
Hamilton, Ontario
L8W 3V9
Note: You will not receive a refund if you move out of the city within 30 days of purchase.
Animals & Pets
Contact Us
Shelter at 247 Dartnall Rd.
Monday to Friday, 8:30 am to 4 pm
Saturday & Sunday, 10 am to 2 pm
(excluding holidays)
Call 905-574-3433
Animal Services
For Animal Control Officer response, dogs at large, animals in distress or deceased animals
24 hours a day, 7 days a week  
Call 905-574-3433
Date modified
June 21, 2023