Public Art
Traffic Signal Cabinet Wraps Public Art Project
Building on the success of previous traffic signal cabinet artwork projects, the City of Hamilton is looking to wrap new traffic cabinets with artwork by local artists. It is estimated that up to 200 new traffic cabinets will be installed throughout the city in 2023 and 2024. Artwork added to traffic cabinets is considered temporary with a maximum lifespan of 10 years.
Call for Artists
The City of Hamilton is seeking local artists of all backgrounds and experience to submit proposals for traffic signal cabinet wraps. Artwork can be created in any medium but, if selected, must be provided as high-resolution digital files suitable for large-format printing. The artwork wraps are to be installed on traffic signal cabinets throughout the city. Artists of all experience levels are encouraged to submit proposals.
A volunteer jury of citizens and local artists will select up to forty (40) of these proposals for installation.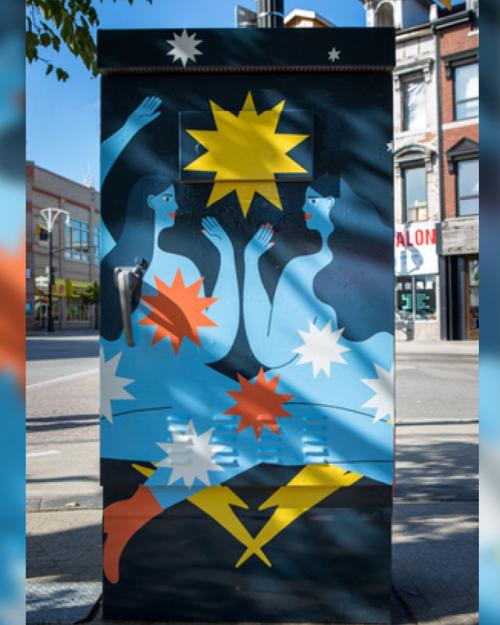 Award $700
For final digital files provided for large-format high resolution printing, with an agreement allowing for its reproduction and use of up to five (5) times by the City.
Submission Deadline
Friday January 20, 2023 at 4 pm (EST)
Artist Information Meeting
Watch the artist information meeting held Tuesday December 13
Submitting Proposals
Hard copy submissions will not be accepted 
Date modified
December 19, 2022