Park Projects
Roxborough Park
Roxborough Park is a 1.5ha neighbourhood park located at 70 Reid Avenue North in Ward 04.
The park is bounded by single-family housing and row-housing. A new mixed housing development that will include townhomes, apartment units and condominiums is occurring south of the park across Ayr Avenue.
To respond to the growing community and to changing usership needs, the amenities at Roxborough Park are being revitalized and new amenities will be added.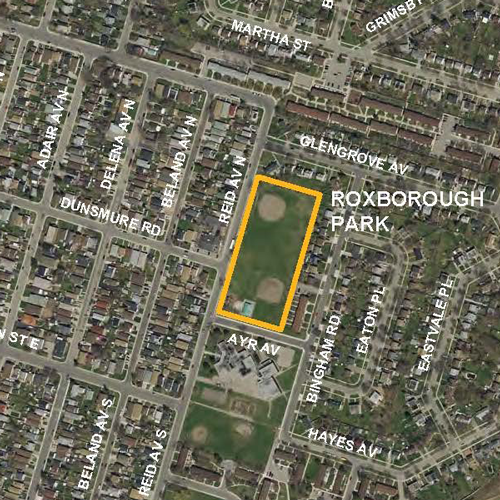 The existing amenities within the park include:
Two baseball diamonds
A concrete block storage building with an attached sun shelter
A spray pad
A playground structure
A double-bay swing set
Benches
Storage containers
Open space
Park revitalizations and additions include:
Revitalization of the spray pad, playground structure and swing set
Conversion of the north baseball field to a slow-pitch softball field
Replacement of the south baseball diamond with a multi-purpose court that can accommodate basketball and ball hockey
New asphalt pathways, picnic tables and tree planting
July 2018 - Concept Development
September 13, 2018 - Public Information Centre held
Fall 2018 to Winter 2020 - Proceed with Detailed Design using "Aviation Part" Concept selected by the public
TBD - Construction year to be determined and is pending construction funding being secured
Date modified
December 20, 2022