Public Notice
Notice of PIC for Main Street Two-Way Conversion Study
The City of Hamilton has initiated the Main Street Two-Way Conversion Study for Main Street from Longwood Road West to Delta. The study will assess options to improve traffic, pedestrian and cyclist access and safety throughout the corridor. This study will review the problem/opportunity statement, the alternative solutions and the preferred solution and review the project's alternative designs and the associated evaluation process.
The Process
The purpose of this Study is to improve the safety and access for pedestrians, cyclists and vehicles travelling on Main Street by developing and assessing alternative planning solutions. This Study will be a key component in redesigning the corridor to be safe, pedestrian-friendly, comfortable, and vibrant for its residents and visitors.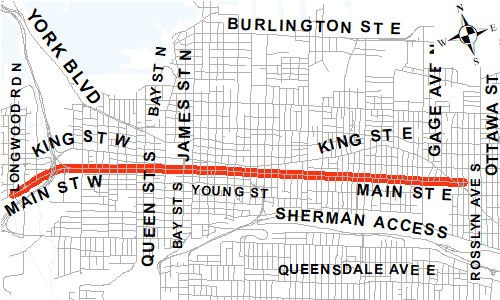 ---
Review Materials Anytime
If you are unable to participate in the live meeting, you may view the presentation materials and meeting recording at your convenience after the PIC.
Visit the project webpage anytime starting May 10, 2023 to review preliminary design drawings.
An interactive mapping tool will open for input on May 19, following the PIC.
Join the Virtual PIC
There will be a live virtual meeting held on Thursday, May 18 from 6 to 8 pm. The project team will provide an overview presentation of the project and will be available to answer questions. The event will be held using the Webex Webinar program where individuals can participate online or by phone.
Pre-registration is required. Visit https://engage.hamilton.ca/mainstreetconversion
If you have any accessibility requirements in order to be able to review the PIC materials and provide comments, please contact the City Project Manager as soon as possible.
---
Comments
For more information, to provide comments, or to be added to our mailing list, please contact:
Dipankar Sharma, P.ENG, PMP, CAMP
Manager, Infrastructure Renewal
Engineering Services
Public Works, City of Hamilton
Call 905-546-2424 Ext.3016
Email [email protected]
James Schofield, P.Eng, RSP1
WSP Canada
Project Manager
Phone 1-905-882-1100
Email [email protected]
Information will be collected in accordance with the Freedom of Information and Protection of Privacy Act. With the exception of personal information, all comments will become part of the public record.
---
This Notice was issued May 6, 2023 and May 13, 2023 in the Hamilton Spectator.
Tags
City & Council
Public Works
Plans & Strategies
Date modified
2023-05-03 15:43