Park Projects
Eastwood Park
Eastwood Park Spray Pad Replacement
Eastwood Park 111 Burlington Street East is a 6.0 hectare community park in the North End neighbourhood of central Hamilton's Ward 2. It is home to softball and soccer fields, a basketball court, a multi-purpose court, an accessible creative play structure, a spray pad, and a sun shelter, washroom/changeroom building A combined sewer overflow tank is located beneath the park, and is designed to improve the water quality of Hamilton Harbour. Eastwood Arena is located in the southwest corner of the park, a well-used green space with some aging amenities that are in need of replacement.
The park is bounded by a mixture of residential housing types, industrial areas, and the HMCS Haida National Historic ship and museum. Hamilton's Pier 8 Development, currently under construction along the Hamilton Harbour, is a short walk from Eastwood Park.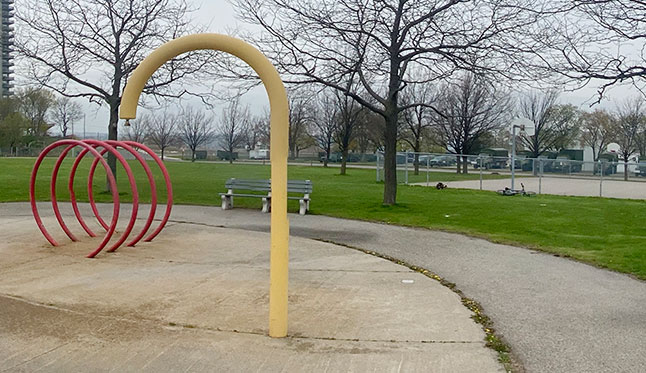 The existing spray pad in the park is nearing the end of its life cycle and is now in need of replacement. This replacement will use the same footprint of the existing spray pad, and will include a number of spray pad features typical of other community parks. This spray pad replacement project will complement the playground upgrades happening in Spring 2021.
Date modified
October 17, 2023