Park Projects
Confederation Beach Park
Confederation Beach Park is a 93-hectare (228-acre) city-wide park, located along the Lake Ontario waterfront between the Hamilton Beach Strip and Grays Road in Stoney Creek. The park offers a variety of all-ages recreation and relaxation opportunities, numerous dining and entertainment options, and several significant woodlots and naturalized areas to explore. There is even a memorial to the sailors lost in offshore shipwrecks, if you know where to look…
While the City of Hamilton owns the park, the Hamilton Conservation Authority (HCA) manages most of the property through an agreement that in place since 1980, making the HCA a key partner in the park's operation.
Phase 2 Construction Update
Construction on phase 2 has begun in spring 2022, which includes:
New fieldhouse with entry plaza and room for concessions
Naturalized playground
Two cricket batting cages
New park maintenance building
New parking for 290 vehicles, two buses, and room for EV expansion
Internal pathways that connect to the rest of Confederation Beach Park and the wider trail network
Phase 1 of the Sports Park was completed in 2020. Phase 2 is expected to be completed in November 2022.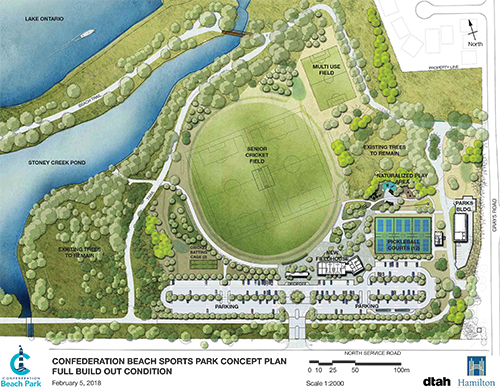 In order to ensure safety throughout the active construction site, the pickleball court will be closed for the season, and is expected to reopen for the 2023 season. During this time, community members are welcome to use some of the other courts available around the city, which can be located using our ParkFinder map. 
The City thanks residents for their patience and understanding while we complete these improvements.
Date modified
September 13, 2022