Properties & Development
Development Projects
Other Projects
Roxborough
Bay-Cannon Phase 1
Queenston Phase 1
Macassa
Wellington-King William
Riverdale
CityHousing Hamilton is embarking on an ambitious revitalization of our portfolio through the extensive retrofit of existing assets and new development that replaces older building stock.
As an organization, we strive to create affordable housing that maximizes social benefit and contributes to the financial sustainability of the organization and the City. As part of this development work, we are implementing best practices for accessibility, efficiency, mix of unit sizes and design.
We have a bold vision for inclusive and socially sustainable housing across the city.
Project Team:
Sean Botham, Senior Development Project Manager 
Samantha Blackley, Development Coordinator
500 MacNab Street North
North America's first EnerPHit retrofit of an apartment tower. The transformation will modernize 146 units to provide high quality, affordable seniors' housing.
Overview
The Ken Soble Tower, located at 500 MacNab St N, is owned by CityHousing Hamilton (CHH), Hamilton's largest provider of subsidized housing. Built in 1967, it is the oldest high-rise multi-residential building in CHH's portfolio.
This ground-breaking project is North America's first EnerPHit retrofit of an apartment tower.  The transformation will modernize 146 units to provide high quality, affordable seniors' housing.
At 18 storeys and morethan 80,000 sq.ft., the Ken Soble Tower will be one of the largest EnerPHit projects in the world. The design tackled several challenging technical issues common to residential apartment towers, including the modernizations of ineffective ventilation systems; replacement of aging mechanical, plumbing and electrical distribution systems; and elimination of thermal bridging at balconies. The retrofit was designed for changing climate, using 2015 temperature projections to test thermal comfort in all seasons.
Slated for completion in 2020, the Ken Soble Tower will be one of the most ambitious social-housing transformations in the country, paving the way for the nation's aging housing supply to secure a healthy, resilient future for thousands of Canadians.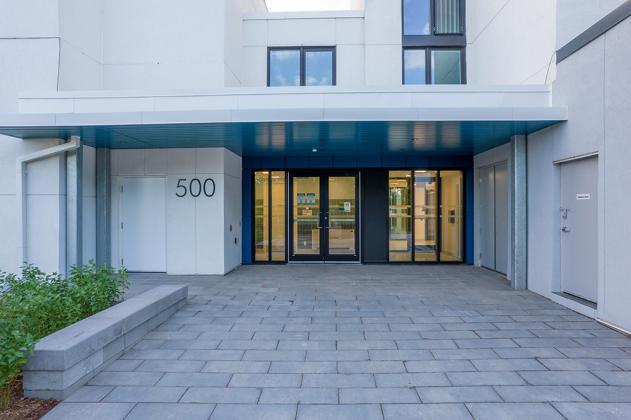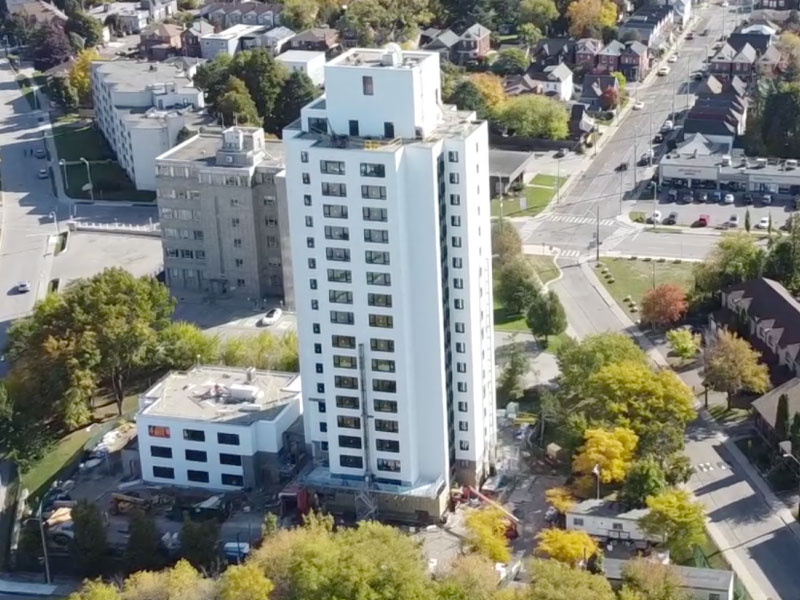 Highlights
# of Units: 146 social housing units, fully rehabilitated
Status: Construction
Estimated Completion: 2021, Spring
Investment: $34M
Funding Partners: FCM, CMHC, Ontario, Enbridge
Team
Owner: CityHousing Hamilton
Project Management: City of Hamilton
Architect: ERA Architects Inc.
Mechanical Engineer: Reinbold Engineering Group
Building Envelope Engineer: Entuitive Corporation
Passive House Consultant: JMV Consulting
Construction Manager: PCL
Jamesville 
Following on a Request for Expressions of Interest (RFEOI), CHH launched a Request for Proposals (RFP) process for the redevelopment and revitalization of CHH's Jamesville neighbourhood. This process sought proposals and financial bids from private sector, for-profit and not-for-profit, development consortia.
Through this RFP process CHH aims to replace on the site, the existing 91-townhouse complex with a 46-unit, rent-geared-to-income (RGI) apartment building plus a broader mixed-income community. CHH's 46-unit building will be situated and integrated into the project on a portion of the existing site that will continue to be owned by CHH.
The RFP requires that the project must also include, at a minimum, a 45-unit affordable rental building, where rents must average not more than 125% of Median Market Rent. The RFP evaluation approach includes a further incentive for proposals to offer an overall proportion of affordable units within the project, of greater than 15%.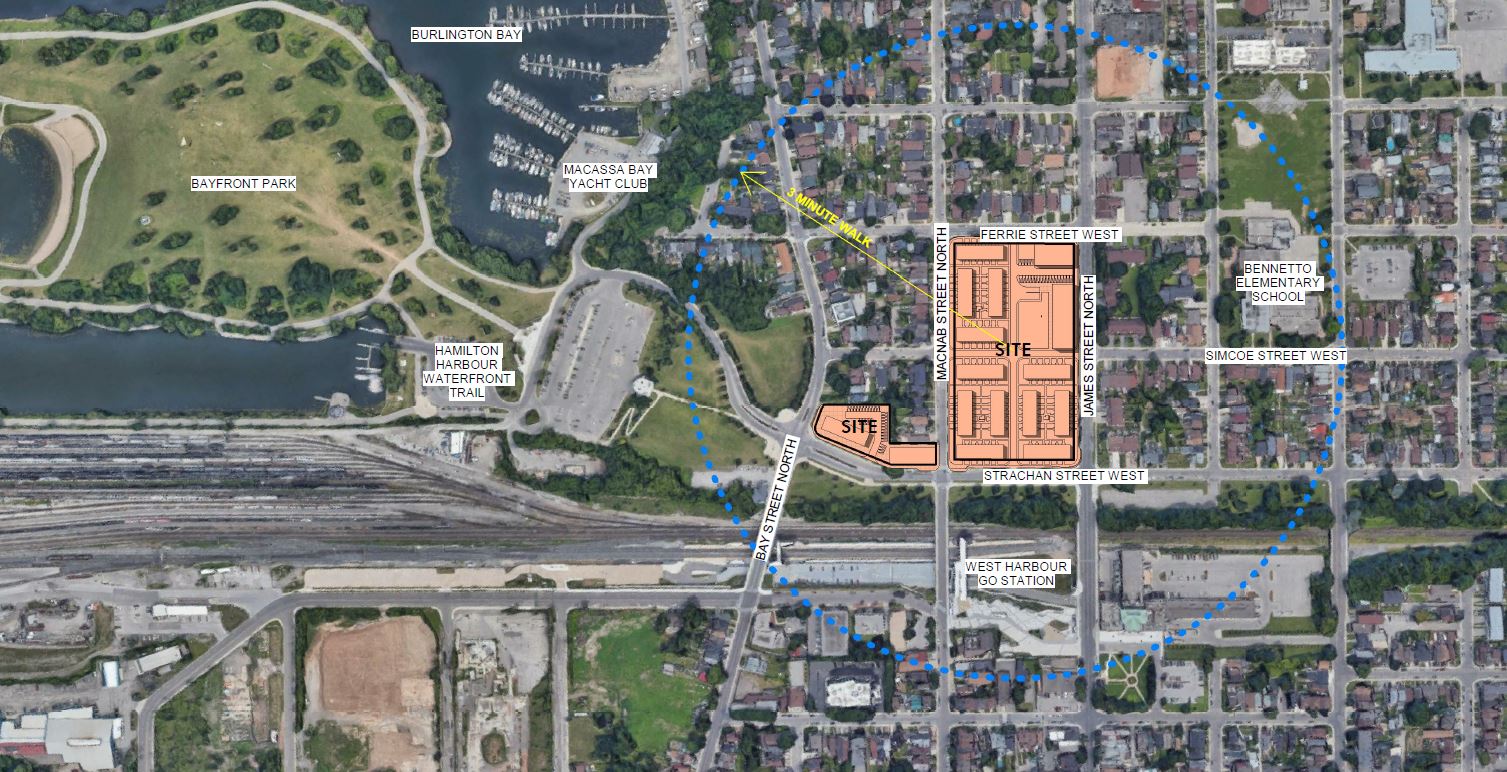 These parameters will ensure that, at a minimum, the original count of 91 affordable housing units is maintained, while promoting a diverse, inclusive, mixed income, urban community. In addition, separate from but linked to the Jamesville development, 45 of the original RGI units from Jamesville will be accommodated nearby at the newly acquired CHH site at the South East corner of Bay and Cannon, along with 10 net new moderately affordable units. This approach rebuilds deeply affordable units within the community and creates a spectrum of, and increase to, affordability with new moderately affordable units.
Highlights
# of Units: X
Status: X
Estimated Completion: X
Investment: X
Funding Partners: X
Team
Owner: CityHousing Hamilton
Project Management: City of Hamilton
Architect: X
Mechanical Engineer: X
Building Envelope Engineer: X
Passive House Consultant: X
Construction Manager: X
Date modified
August 17, 2023