Property for Sale or Lease
Lease Opportunity at 28 James Street North, Hamilton

Questions about this property?
For Lease: Restaurant with Outdoor Patio
Hamilton is experiencing an incredible period of growth. With its recent revitalization, the Lister Building has sparked significant increase in development interest for downtown Hamilton, resulting in projects that continue to shape Hamilton's downtown landscape.
The Lister Block is a historic heritage building that has undergone a massive restoration by LIUNA and was fully modernized and renovated in 2014. Very professional in appearance, today the Lister Building serves as a nucleus of public service and community engagement, as well as a beacon of urban revitalization. In 2012, the building was purchased by the City of Hamilton and became home to several municipal branches. The beautifully restored ground floor retail arcade features both commercial opportunities as well as public space dedicated to showcasing the best this city has to offer.
Well located within the City's downtown core at the north-east corner of King William and James Street North across from Jackson Square and McMaster University this restaurant opportunity is in the heart of the vibrant King William dining scene with its pedestrian friendly outdoor patio atmosphere created during the "patio season".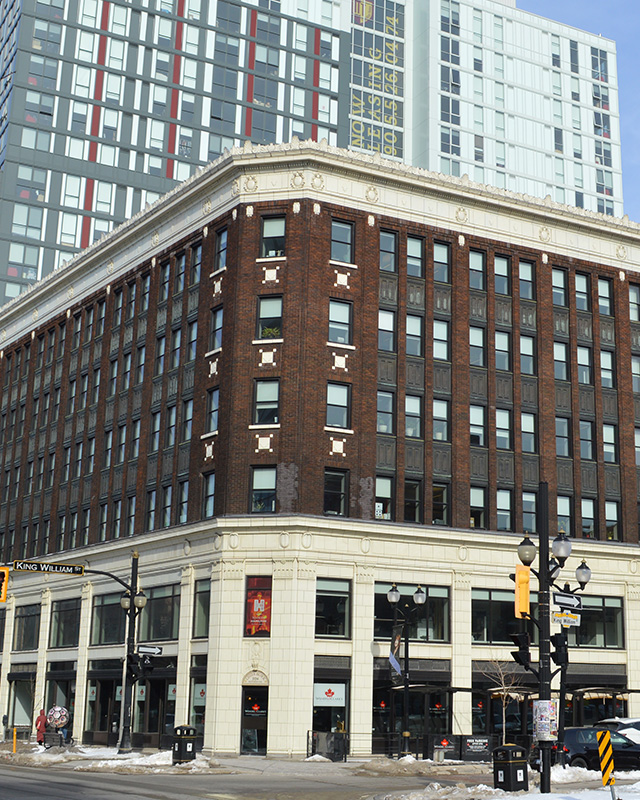 Property Details
Address: First floor space at Lister Building, 28 James Street North, Hamilton, ON
Description: Restaurant premises with street front access and outdoor patio located within a designated heritage facility.
Premises area: approximately 6,000 useable square feet plus outdoor patio
Zoning: D2-Downtown Mixed use-pedestrian focused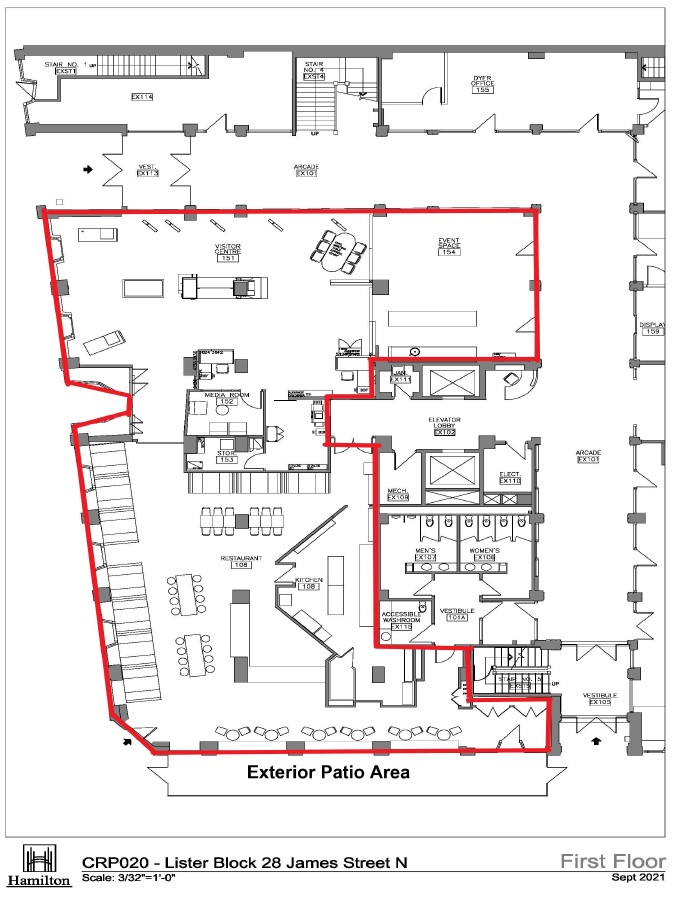 Leasing Framework
Premises are to be assumed "as is" including existing leasehold improvements, furnishings and equipment.
Lister Block is a City owned and occupied office facility with ground level commercial spaces.
Lister Block is a designated heritage building, certain design restrictions are in place and are applicable to the subject premises.
Non-exclusive catering service opportunity within Lister Block.
All requisite leasehold improvements, furniture, equipment, premises design and fit-up will be the sole responsibility and expense of a prospective tenant.
City expects that the outdoor patio will be an integral part of the premises design and business operation.
Responses may be submitted any time and the City reserves the right, in its sole discretion. to pass on any submission received which fails to satisfy the objectives of the City as set out; or the City may elect not to continue to pursue a restaurant tenancy for this space.
Date modified
June 04, 2022