Coronavirus (COVID)
Protect Yourself and Others

Contact Us
For general COVID-19 Vaccine information:
For COVID-19 Vaccine booking information:
Call 905-974-9848, option 7
We all need to continue being mindful that COVID-19 and other respiratory illnesses like flu and Respiratory Syncytial Virus (RSV) are circulating in our community, even as public health measures are changing. Understanding your risk and taking actions to protect yourself and others is important to help slow the viral spread.
Risk Assessment
Individuals should assess their own personal level of risk for severe outcomes from respiratory illnesses like COVID-19, flu, and RSV, and be mindful that there are community members who remain at higher risk for serious outcomes. Check local indicators for respiratory illness transmission in Hamilton.
A person with any of the medical conditions is more likely to get very sick with COVID-19, especially if they are not fully vaccinated. A booster dose is recommended to further reduce risk of severe outcomes.
Older age (risk increases for individuals above age 50).
Unvaccinated individuals, especially those above age 50
Certain cancers
Chronic kidney disease
Chronic liver disease
Chronic lung diseases (e.g., COPD)
Diabetes
Cardiovascular disease (e.g., heart failure)
Dementia
Immune-compromised
Pregnancy
This list does not include all possible conditions that could make you at higher risk for severe outcomes from COVID-19. When making decisions about which activities to participate in, each individual needs to assess their own risk, as well as of those around them.
You can protect yourself and others by following these steps:
Get your flu shot and stay up to date with your COVID-19 vaccinations. Vaccination remains an important way to protect against COVID-19 & influenza.
Wearing a well-fitting medical mask indoors, especially when it's crowded, is strongly recommended.
Wear a well-fitting medical mask around others while you recover from respiratory symptoms for 10 days from when your symptoms started.
Screening for respiratory symptoms daily and stay home if you are feeling unwell. Take a COVID-19 test if you have symptoms.
If you get COVID-19 or the flu, you may be eligible to receive antiviral treatment. Talk to your healthcare provider to find out if you would be eligible and, if you are, where you can access antivirals if you become infected.
Wash your hands thoroughly and regularly with soap and water or alcohol-based sanitizer.
Avoid touching your eyes, mouth and nose.
Cover your cough or sneeze with a tissue or sneeze/cough into your upper sleeve or elbow.
Clean and disinfect surfaces. A list of cleaners and disinfectants is available on Health Canada's website.
Reduce your risk by avoiding crowded places, close-contact settings, and confined and enclosed spaces with poor ventilation. If you do gather with others, open windows to increase ventilation if safe and feasible and keep the length of gatherings short. Reduce your risk further by limiting your social contacts.
Do activities when it is less busy.
When using shared transportation such as a taxi or car share, lower risk by sitting in the back seat, wearing a mask and opening the window, as weather allows.
Prevent COVID-19 spread when gathering with others: 
Do not get together with others if you are feeling unwell, have any COVID-19 symptoms, or have been exposed to a person with COVID-19.
Gatherings are safer outdoors than indoors.
The fewer people who gather, the lower the risk of COVID-19.
Clean your hands thoroughly and regularly.
Open windows to increase ventilation if safe and feasible.
Keep the length of the gathering short.
Getting your vaccines against COVID-19 and the flu can help protect you from serious illness, hospitalization, and death.
Stay up to date with COVID-19 vaccinations by receiving all recommended doses. To get a booster dose of COVID-19 vaccine, check clinic locations
To find out where you can get a flu shot in Hamilton, check clinic locations.
It is strongly recommended that you wear a well-fitted mask in all indoor settings, especially when it is crowded.
Masks continue to be required in long-term care homes and retirement homes based on Ministry guidance.
You should wear a mask at all times when you are outside your home and in public places (including school and child care, unless under two years of age) if you:

are recovering from COVID-19 symptoms and are no longer isolating for 10 days from when your symptoms started
have tested positive for COVID-19 and do not have symptoms for 10 days from the positive test result
have been identified as a close contact of someone with COVID-19 symptoms and/or a positive test result for 10 days from last exposure

Be kind, considerate and respectful of others' choices.
Consider your personal risks and the risks to those around you when making decisions about masking in crowded indoor public spaces.
Be prepared that masks may be required if a new variant of concern emerges, or in response to COVID and other respiratory viruses circulating widely.
Poor ventilation in indoor spaces is linked to increased transmission of respiratory infections, particularly if the space is small. Ventilation should be improved whenever possible.
Heating, ventilation and air conditioning (HVAC) systems and their filters help to prevent the spread of respiratory illnesses by reducing virus particles in the air by:
increasing the amount of fresh air that flows into a space (ventilation); and
removing virus particles from the air (filtration).
Reduce your risk in indoor spaces when ventilation is poor
open windows and doors regularly when possible. If weather, safety or air quality are a concern, open doors or windows for a small amount or for a few minutes at a time.
use portable air cleaners
use ceiling fans or portable fans positioned away from people and near open windows and doors to bring in fresh air, weather permitting.
Reduce your individual risk in indoor crowded spaces by
wearing a well-fitted mask
limiting the amount of time spent in the space
keeping your distance from others
Cleaning your hands and cleaning and disinfecting surfaces can help reduce your risk of getting flu, RSV, COVID-19 and other viruses.
When and what to clean
Commonly touched surfaces should be cleaned on a regular basis and when visibly dirty. Commonly touched surfaces include door handles, countertops, tables, light switches, faucets, sinks, toilets, and electronics (e.g., cell phones, tablets, keyboards, and remote controls).  
Products to clean with
Cleaners break down grease and remove material from the surfaces. They should be used before disinfectants, although some products contain both cleaners and disinfectants. Read the label to know if the cleaning product will also disinfect.
Disinfectants have chemicals that kill most germs. Disinfectants should be used after surfaces have been cleaned. Use disinfectants that have a Drug Identification Number (DIN). This is an 8-digit number provided by Health Canada that confirms it is approved for use in Canada.
A list of cleaners and disinfectants is available on Health Canada's website.
How to clean hard surfaces
Follow product labels and manufacturer instructions, including the required contact time for the product to work. For most products, the contact times are included in the fine print on the label.
If surfaces are dirty, clean first before applying disinfectant.
Apply disinfectant and allow it to dry.  
Don't forget to clean electronic devices. Use disinfecting wipes that are safe for electronics. If there are no manufacturer instructions, use 70 per cent alcohol-based wipes.
How to clean soft surfaces (e.g., bedding, towels, and clothing)
Follow product labels and manufacturer instructions.
Use the warmest temperature setting permitted.
Safety tips
Always read product labels and manufacturer instructions.
Do not mix chemicals.
Store chemicals out of reach of children and pets.
Wear protective gear (e.g., gloves) when using products.
Ensure good ventilation when using products (e.g. open windows/doors, use fans)
Wash hands with soap and water immediately after cleaning or disinfecting.
Visit Public Health Ontario for more information on cleaning and disinfecting.
Antiviral treatment is currently available for individuals at high risk of severe COVID-19+, as determined by a clinician.
Individuals who are at high risk of severe outcomes of COVID-19 if they become infected should speak with their health care provider (doctor) to learn about treatment options and develop a treatment plan. Having this information when well, will help individuals know how they can access testing and treatment if they develop symptoms of COVID-19.
You can be referred by a health care provider to an in-person COVID Care Clinic to be assessed to receive treatment or you can pick up antiviral treatment at a participating pharmacy  with a prescription.
Individuals at high-risk of severe outcomes of COVID-19 are:

60 years of age and older
18 years of age and are immunocompromised
18 – 59 years old with:

One or more underlying medical conditions (such as diabetes, heart or lung disease), or
Inadequate immunity against COVID-19 from:

Not receiving a full primary series of the COVID-19 vaccine
Having received a full primary series but no COVID-19 vaccine or COVID-19 infection within the past six (6) months

For more information, please Ontario's COVID-19 Testing and Treatment guidance
The City of Hamilton's Face Coverings or Mask By-law 20-155 was repealed on March 21, 2022. Masks are no longer required in enclosed public places in Hamilton. However, individuals should assess their own risk level and consider wearing a mask in certain settings to protect themselves and others.
Do face masks protect you from COVID-19?
Wearing a well-fitted face mask when you are sick protects people who are around you. Since some people who are infected with COVID-19 may have the virus and not know it, whenever people you are going out and might come into close contact with other people, they you should assess your personal level of risk and consider wearing a face mask. When other people wear a well-fitted face mask, they are helping to protect you as well.
Masks can help:
contain your respiratory particles
prevent or reduce the amount of infectious respiratory particles you inhale, particularly when wearing a well-constructed, well-fitting mask
While masks are not required in all settings after international travel, you may still wish to wear one as they are an effective individual public health measure that you can easily implement to protect yourself and others.
Unvaccinated children must properly wear a well-constructed and well-fitting mask when in public spaces for the first 14 days after international travel, this includes schools and daycares.
For individuals who had COVID-19 or were sick or are close contacts, masks must be worn in public places for 10 days after symptom onset/ last exposure.
To continue providing an additional layer of protection for the most vulnerable, masks are required in long-term care and retirement homes based on Ministry guidance, as applicable.
Masking is recommended in higher-risk congregate care living settings, such as shelters and group homes
Organizations may implement their own masking policies regarding masking requirements
Check with your workplace if your employer requires masks
Individuals may wish to continue wearing masks in certain settings, based on their own personal risk assessment. Please be kind and respect others' choices.
Masks or face coverings should
Be well fitting.
Cover an individual's nose, mouth and chin, without gaping.
Fit securely to the head with ties or ear loops.
Maintain their shape after washing and drying.
Be made of multiple layers consisting of at least 2 layers of tightly woven fabric such as cotton and a third (middle) layer of filter-type fabric, such as non-woven polypropylene fabric.
Be comfortable to avoid the need for adjustments when wearing.
Not contain non-breathable materials such as plastic.
No matter which type of mask you choose, proper fit is a key factor in its effectiveness.
How well a mask works depends on fit. When choosing a mask, keep in mind:
masks with a flexible nosepiece may provide a better fit over the nose
the fit of the mask can vary depending on the size and features of your face
masks with ties or bands that go around the back of the head may provide a better fit

if choosing an ear loop-style mask, use one with adjustable ear loops or use the tips below to improve fit
A well-fitting mask should:
fit completely and comfortably cover the nose, mouth and chin without gaps and not allow air to escape from edges
fit securely to the head with ties, bands or ear loops
be comfortable and not require frequent adjustments
maintain its shape after washing and drying
Ways to improve fit include:
adjusting ties or ear loops
adjusting the flexible nosepiece
tying knots in the ear loops and tucking the sides of the mask so that it lies flat
keeping facial hair and beards shaved or short, if possible, so the mask can fit closely to your face
How to make your mask fit properly
Non-fit tested N95 masks offer similar effectiveness to well-fitted medical/surgical masks; however, three-layer non-medical masks can be more comfortable to wear over longer periods and still offer good protection. Public health follows Ontario Ministry of Health guidance for KN95 and N95 masks.
When wearing a face covering or mask
Immediately wash your hands before putting the face covering or mask on, before adjusting it, before taking it off and after taking it off. Use soap and water or an alcohol-based hand sanitizer to wash your hands. 
Make sure the face covering fits well, covering your mouth, nose and chin. The mask should fit your face, leaving no gaps on the sides.
Make sure your face covering or mask is secured to your head with ties or ear loops without the need to adjust frequently. 
Ensure that the pleats on the outside are facing down, if your mask has pleats. 
Gently mould the metal strip over the bridge of your nose to ensure a close fit, if your mask has one. 
Avoid moving the face covering or mask around or touching the covering while using it.
Do not share your face covering or mask with others, even within your own household.
Do not leave your face covering or mask tucked under your chin, hanging from your ear, or on your forehead.
Replace the face covering or mask as soon as it becomes damp, dirty, damaged or if it has shrunk after washing and drying.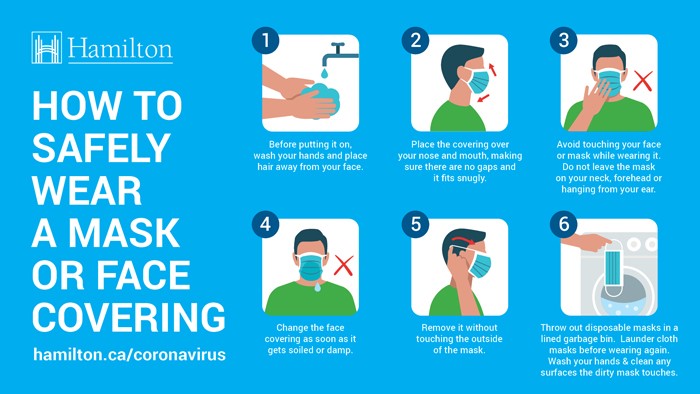 Filters add an extra layer of protection against COVID-19 by trapping small infectious particles. Filters can be made from:
non-woven polypropylene fabric
a disposable filter inserted into a pocket on the mask
For masks with a pocket, add a disposable coffee filter, paper towel, or reusable filter cloth. For masks without a pocket, cut/unstitch one end and tuck a filter in between the two layers. Check out how to make your own face covering with a filter.
Reusable masks with a non-woven filter layer should be washed daily, and can be washed multiple times.
Disposable filters should be changed daily or as directed by the manufacturer.
Wearing a face covering or mask can increase your risk of infection if you touch your face more frequently to adjust it or if you do not wash your hands before putting it on and taking it off.
When taking off a face covering or mask
Wash your hands with soap and water or an alcohol-based hand sanitizer and then remove your face covering or mask by pulling the ties or ear loops away from your ears.
Put the face covering or mask into a bag to keep it separate from other items until it can be washed or thrown out in a lined garbage bin
If your face covering or mask has a removable, non-reusable filter, make sure to remove and throw it out before washing your mask.
To wash the face covering or mask, put it directly into the washing machine. Throw out the bag it was stored in. Wash your hands again with soap and water or an alcohol-based hand sanitizer after handling your face covering or mask.
Wash the face covering or mask with other laundry using a hot water cycle. No special soaps are needed.
Disposable masks should not be washed, reused or recycled.
When disposing of a damaged/dirty face covering or mask
Throw it out into a lined garbage bin.
Wash your hands with soap and water or use an alcohol-based hand sanitizer.
Do not leave any discarded masks in shopping carts or on the ground.
Face shields are meant to be used for barrier protection for the facial area and would not be considered a substitute for wearing a face mask or face covering. Face shields do not provide any filtering against respiratory droplets.  A face shield may protect the wearer against droplets expelled from another person, however, some of these droplets may still be inhaled around the shield.
Respiratory droplets expelled by the wearer may escape around the sides of the face shield, which therefore provides sub optimal protection to others.
If you choose to wear a face shield, it is recommended - if possible - to wear it in addition to a properly fitted cloth masks.
Clear plastic mouth shields are not a suitable face covering since they do not tight fitting around the mouth, nose and chin. Mouth shields allow infectious respiratory droplets to spread outside the mask, and do not help prevent the spread of COVID-19.
As a better than nothing approach, the WHO recommends that if face shields are to be used, the wearer should ensure proper design that covers the sides of the face and extend below the chin. For certain populations, those with mental health disorders, developmental disabilities, deaf and hard of hearing community and children, the WHO supports the use of face shields.
Masks with an exhalation valve are not recommended because they may filter dust particles in the air as the person inhales, but they may not filter virus particles or respiratory droplets. This means droplets from a person can be spread in a room, reducing the benefit of the mask.
Respirators with exhaust valves are also not recommended. These are intended to make the respirator more comfortable for the person who is wearing it, but they can also allow respiratory droplets to spread in room. 
Clear plastic face masks that extend below the chin and wrap around the sides of the face may be considered when communicating with a person who is deaf or hard of hearing, to allow them to lip read. However, clear plastic face masks are not recommended for general use, as they do not cover the nose, mouth and chin without gaping and cannot be properly cleaned and disinfected between use.
Date modified
April 03, 2023