Environmental Assessment
43 Highway 5 West, Park of Lot 24, Concession 3, Flamborough

Development planning has advanced since 2013 in the northwest quadrant of the Highway 5/6 Interchange, and design for the municipal road within the plan of subdivision for 43 Highway 5 West, Park of Lot 24, Concession 3 (i.e., the Site), identified as Street B in the Preferred Alternative for the Associated Municipal Roads has advanced to completion of detail design.
The City has completed Municipal Class EA process for Provincial Transportation Facilities (2000) process for a Group 'B' project. A 'five-year TESR review' was undertaken and determined that there are no significant changes to the relevant portions of approved plan for this study area.
Location: NW Quadrant of Highway 5/6 Interchange
Status: Completed (Feb/Mar 2022)
Classification: Group B - Addendum​
Background
In 2004, Ministry of Transportation (MTO) completed a Preliminary Design Study and prepared a Preliminary Design Report (PDR) for improvements to Highway 6, from south of Highway 5 to 5th Concession East, in the City of Hamilton.
In December 2013, a Preliminary Design and Transportation Environmental Study Report (TESR) Addendum for the future Highway 5/6 Interchange, associated municipal roads in the City of Hamilton was prepared.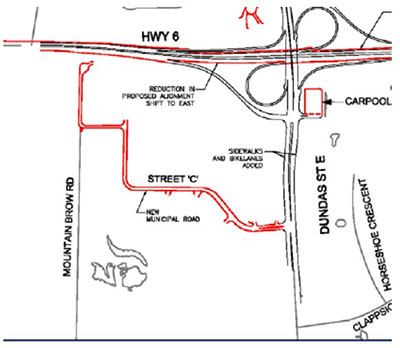 Design and Construction Report
Date modified
2022-08-16 13:00