Gardens & Trees
Street Tree Planting Program

The City of Hamilton's Street Tree Planting program offers free trees to homeowners in Hamilton. Trees are planted in the City-owned road allowance of your property. The measurement of the road allowance varies depending on the survey or neighbourhood you live in.
Planting more trees in our neighbourhoods can benefit the city by: 
Reducing Air Pollution - Street trees improve air quality by absorbing pollutants and intercepting harmful particulates.
Fighting Climate Change - Increasing tree cover in towns and cities by just 10% can keep surface temperatures at current levels despite climate change (University of Manchester)
Improving Neighbourhood Image - Street trees improve the image of neighbourhoods and make them even better places to live, work and invest.
Building Communities - Getting residents involved in caring for trees helps them reconnect with their neighbours
Boosting Health - Research shows that children who live in tree-lined streets have lower rates of asthma (Columbia University).
Benefiting Wildlife - As well as being great for people, street trees also offer much needed habitat for wildlife too.
Additional Benefits - Reduced emissions Increased storm water control Noise abatement Improved health of citizens Beautified neighbourhoods Increased property value.
Getting your tree is as easy as 1-2-3!
Review the program guidelines
Submit an online request (form below) or call 905-546-2489
Forestry Investigator will visit site to assess property and tree selection
2022 tree requests will be investigated in late 2022 and early 2023 and planted May through November 2023.
Program Guidelines
The Street Tree Planting program follows these guidelines:
If you live on a standard lot, you can have one tree planted on the road allowance on your property.
If you live on a corner lot, you can have up to three trees planted.
Trees will not be planted in any boulevard locations where the width of grass area is less than 1.75 metres.
Site Requirement Overhead View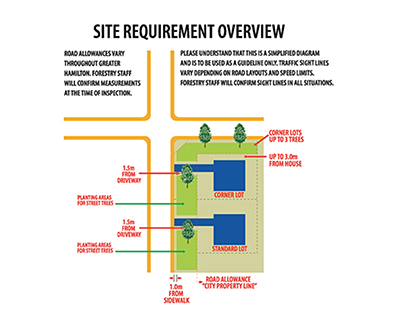 Site Requirement Side View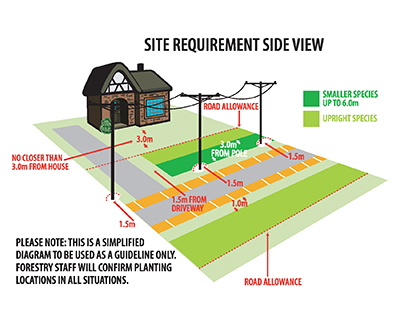 NOTE Simplified diagrams to be used as a guide only. Forestry staff will confirm planting locations in all situations.
Tree selection
We offer approximately 40 choices of native and some non-native trees which provide diversity to our streets and ensure that we plant trees suitable for the location. Planting a variety of trees reduces the loss of tree canopy due to disease and insect damage and increases the sustainability of our Urban Forest. Our Forestry Investigator will do a site inspection to assist in selecting a tree species that is site appropriate.
The City's Forestry Section is currently in a temporary suspension of Maple Tree planting to build diversity in our tree canopy, thereby building a robust canopy to better withstand pathogens. Our Forestry Staff would be happy to help in selection of alternate species.
Tree planting season
Trees are planted from spring through to the fall of each year. Planting locations must be approved prior to planting, so the cut off dates allow for the site visit and assessments. Details are confirmed and provided to contractors well ahead of the planting dates and new additions cannot be made.
Information cards are left at each house when a new tree is planted by the City of Hamilton. These cards outline the needs of your new tree and provide contact information for questions.
Use these guidelines to keep your tree healthy until it is established:
Water the tree the day it is planted using a slow drip until the soil is saturated.
Water your tree weekly for the first year from late spring to early fall; after the first year, water the tree weekly only when it hasn't rained much.
Check soil periodically to determine moisture content. Soil should be moist not drenched or muddy.
Scratch the surface of the soil to ensure that water has penetrated the root ball and tree pit area. If the soil is dry, water again until moist throughout the root ball.
During periods of drought it is especially important to water your new tree to prevent desiccation and wilting.
Do not let the planting dry out completely.
A tree guard is provided when the tree is planted for protection. You should also protect your tree from mechanical damage from grass trimmers, lawn mowers, bicycles and cars.
We recommend mulching to a maximum depth of 10 cm (4 inches). Mulching reduces the risk of grass trimmer damage, helps retain moisture and adds organic material to the soil.
Fertilize during the second year after the tree was planted. Use brand name tree fertilizers and follow the fertilizer manufacturer's recommended application rates.
Keep weed killers, solvents and cleaning agents away from your tree.
A newly planted tree's best friend Is mulch. It is very important to remember to mulch your tree after you have planted. Mulching is one of the most valuable things a homeowner can do for a tree's health. Mulch is any material placed on the soil to conserve moisture and improve growing conditions. Common materials include arborist's wood chips, bark, pine needles and compost.
The Benefits of Mulch
Insulates the soil helping to provide a buffer from heat and cold temperatures
Retains water helping to keep the roots moist
Keeps weeds out to help prevent root competition
Prevents soil compaction
Reduces lawn mower and string trimmer damage
Proper Mulching
Apply a minimum of 10 cm (4 inches) to a maximum of 150 cm (60 inches) of mulch over the planting area. The wider the mulch ring, the greater the benefit. Mulch out to the tree's drip line, if possible.
Do not pile mulch against the tree trunk. Pull mulch back several inches from the trunk so the base of the trunk and root crown are exposed. The mulch-ring shape should resemble a "doughnut" not a "volcano".
If mulch is already present, check the depth. Do not add more if sufficient layers are already in place.
Organic mulches are preferred to inorganic materials. Organic mulches should be well-aerated and composted. Avoid sour smelling mulch.
Almost everyone knows that trees and other living plants are valuable. They beautify our surroundings, purify our air, act as sound barriers, manufacture precious oxygen, and help us save energy through their cooling shade in summer and their wind reduction in winter.
Many people do not realize, however, that plants have a dollar value of their own that can be measured by competent plant appraisers.
Tree size
Sometimes the size and age of a tree are such that it cannot be replaced. Trees that are too large to be replaced should be assessed by professionals who use a specialized appraisal formula.
Species of Tree
Trees that are hardy, durable, highly adaptable and free from objectionable characteristics such as pods or nuts which add to the debris are most valuable and require less maintenance.
Condition of the Tree
A well-cared-for tree with healthy roots, trunk, branches and buds will have a higher value.
Location of the Tree
One tree standing alone will often have a higher value than a tree in a group. A tree near your house, or one which is a focal point in your landscape, tends to have more value.
Street Tree Planting Program
Frequently Asked Questions
Trees are planted from Spring through to Fall each year. The stump of your old tree must be removed before we can plant a new one. Request your tree early.
No. Tree stumps are removed to a maximum depth of 30 cm. This is not deep enough to accommodate a new tree. The new tree will be planted at least 1 metre away from where the old stump was.
Trees will not be planted in any boulevard where the width of the grass area is less than 1.75 meters.
Contact the City at 905-546-2489 if you have been waiting over a year for a tree. Do not complete an online form if you already requested a tree.
If you live in a new subdivision and your tree was planted within the last two years, your tree may be covered by a warranty supplied by the Landscape Contractor. If the tree has been planted for more than two years, the City can assist with any concerns. Contact the City at 905-546-2489.
Dead trees which appear to have been properly cared for will be replaced up to three times. A different species of tree better suited to soil conditions may be planted in these cases.
When first planted the City of Hamilton waters, mulches and put a protective collar around the trunk of your tree. After that watering and caring for your new tree is your responsibility. All maintenance on your tree such as trimming will be taken care of by the City of Hamilton.
No. The Street Tree Program only plants trees on the City-owned road allowance of properties. City staff will come out to see if there is enough space to plant a tree on the road allowance of your property. All trees planted on the road allowance belong to the City. They will be maintained by City staff and cared for by you.
Trees are planted at least 6 to 10 meters away from existing trees depending on the species. City staff will see how much space is available and suggest tree species.
You can have up to three trees planted depending on the size and layout of your property. Most properties will have one tree planted. Corner properties will have up to three trees planted.
The Street Tree Program plants trees on the City-owned road allowance of properties. We do not plant trees in existing beds due to potential conflicts with existing plant material. In some cases exceptions may be made in consultation with City staff.
Planting locations must be approved prior to installation. Planting lists are provided to contractors well ahead of the actual planting dates and new additions cannot be made to the lists that are active at the time of planting. If your request for a tree originated as a result of the removal of a mature tree, then the stump must be removed prior to a new planting.
Tree Planting Program Request
Date modified
August 24, 2023