Environmental Health & Hazards
Climate Change & Air Quality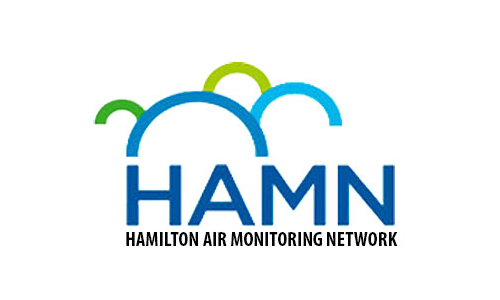 Air Monitoring in Hamilton
Air monitoring collects outdoor air quality data that is used to identify local sources of air emissions and evaluate potential health impacts on Hamiltonians.
Climate change refers to the long-term change in average weather patterns resulting from the release of greenhouse gases such as carbon dioxide, methane and nitrous oxide into the atmosphere.
Cities are major contributors of greenhouse gases, or GHGs. According to the Organisation for Economic Co-operation and Development, cities are home to more than half of the world's population, contribute to about 70 per cent of worldwide emissions and use two-thirds of the total energy worldwide. Households, industries, transportation and infrastructure within cities are large sources of GHGs.
Human activities affect climate change by increasing GHGs, resulting in and increase to the Earth's average temperature. These temperature changes alter weather patterns.
Climate change is expected to:
Increase damage to infrastructure such as water, roads, energy and homes due to extreme weather events such as droughts, intense precipitation, extreme temperatures, high winds and severe storms
Increase the burden on insurance and reinsurance industries, resulting in increased liability costs or removal of coverage
Change food and water supplies by shifting rain patterns, soil moisture, water temperature and availability of nutrients
Increase rates of death and disease associated with extreme weather, poor air quality, insect-borne diseases and drought
Increase economic losses associated with extreme weather such as tornadoes, floods, hurricanes and snowstorms
Climate change is likely to have harmful effects on human health. The relationship between weather, climate and human health is both direct and indirect, because air quality is strongly influenced by weather and climate. Effects on human health include:
More severe respiratory disorders and allergies
More deaths due to extreme weather events
Greater infectious diseases
Increase in health disorders related to environmental contamination by bacteria, viruses and parasites
Learn more about the City's policies, plans and initiatives ensuring environmental planning and supports resident wellbeing.
Smog, the grey or brown haze that sometimes accompanies hot days, describes pollutants in outdoor air. In urban areas, sources of pollution include cars, trucks and industry. Because pollutants travel through the air, pollution can affect air quality at great distances from where the pollution originated. 
When high smog levels are expected, the Ontario Ministry of the Environment and Climate Change issues Smog Alerts.
Smog affects everyone's health
Some people are more vulnerable to the effects of air pollution than others. Smog is especially harmful to:
Seniors
People with lung diseases and heart conditions
People with asthma, bronchitis, or other lung conditions
Children and pregnant women
Effects of smog on health include:
Irritates eyes, nose and throat
Causes wheezing, coughing and breathing difficulties
Associated with premature death
Results in increased hospitalizations and visits to the emergency room or the doctor's office due to pre-existing health conditions such as asthma, bronchitis, heart disease and diabetes
Health risks may increase during high smog levels if you play sports or exercise outdoors, or are active outside (e.g., gardeners). When you exercise, you breathe harder than normal, bringing dirty air deeper into your lungs. You also breathe mostly through your mouth, bypassing the filtering action of your nose.  If you are active outdoors when smog levels are high you may have difficulty performing at your best because your lungs cannot work at full capacity.
How to protect yourself during a smog alert
Reduce your activity level if you have symptoms such as coughing, wheezing, chest tightness and/or difficulty breathing
Avoid or reduce strenuous outdoor physical activity, especially in late afternoon
Avoid or reduce strenuous outdoor physical activity such as running near areas of heavy traffic, especially during rush hour
Plan your day to limit activities that increase smog (for ex., do errands with friends, car pool to work, take the bus to work, work from home)
Stay indoors if possible
Drink lots of water and take breaks in the shade or in an air-conditioned area if you work outside
Check on neighbours, friends and family members, especially those who have health problems or live alone
Call your doctor or go to the closest walk-in clinic or hospital emergency department if you have concerns about your health
On-the-Go
Reduce Single Occupancy Vehicle Use
Active & public transportation reduce single occupancy vehicle traffic-related air pollution.  Traffic-related air pollution has been linked to respiratory and cardiovascular diseases, cancers, diabetes, obesity and mental health-related outcomes.
To learn more about ways to reduce driving and its contribution to air pollution and climate change, please visit:
At Home
Do-it-yourself (DIY) Construction Projects
When completing DIY construction projects, use best practices to reduce dust and particulate matter. Read the Clean Air Hamilton's Homeowners Environmental Handbook.
Open Air Burning
Indoor and outdoor wood burning emits air pollutants such as:
particulate matter
sulphur oxides
nitrogen oxides
carbon monoxide
carbon dioxide
volatile organic compounds
dioxins and furans
polycyclic aromatic hydrocarbons
Hamilton's Open Air Burning By-law No. 02-283(PDF, 378.7 KB)
The City does not have a by-law that regulates indoor wood burning.
Effects of wood smoke on health
Wood smoke can cause irritations such as:
Headache
Sore throat
Runny nose
Coughing
Wheezing
Shortness of breath
Air pollution has been linked to increased hospital admissions, asthma and other respiratory diseases and premature death. 
Who is at risk?
Wood smoke can affect everyone's health. Those most sensitive to smoke and its health effects include:
Children
Pregnant individuals
Seniors
People with asthma, allergies, heart problems or lung conditions
Those who work, play sports or exercise outdoors are also at risk.
How to protect yourself
The best way to reduce exposure to wood smoke is to avoid burning wood. If you do burn wood, consider switching to an electric fireplace.
Replace older wood burning equipment with new, high-efficiency, low emission units
Buy a wood stove approved by the US Environmental Protection Agency and certified by the Canadian Standards Association
Start fires with newspaper and dry kindling
Try a mix of different hardwoods and softwoods in your fire
Burn only clean, dry wood and newsprint
Do not burn garbage, cardboard, plastics, painted or treated wood, particleboard, plywood or glossy magazines - these release toxic chemicals into the air
Keep fires small and hot
Remove ashes regularly from your woodstove and place in a metal container stored outside your home. Once cooled, place ashes in paper bags and dispose in your Green Bin 
Have your chimney inspected and cleaned at least once a year
Install and regularly check smoke alarms and carbon monoxide detectors, including battery life
Ensure that new stoves and fireplace inserts are professionally installed by a technician certified under the Wood Energy Technical Training (WETT) program
If you live in a neighbourhood where wood-burning is common, keep your windows closed and seal areas where drafts occur
Ask your neighbours if your wood smoke is affecting them
The Air Quality Health Index, or AQHI, is a scale to show what effect local air pollution levels may have on our health. The AQHI incorporates ground-level ozone, particulate matter and nitrogen dioxide into the rating. These three common air pollutants are the best indicators of the effects of air pollution on health. The AQHI is calculated hourly based on the cumulative health risks of these pollutants. The result of the calculation is converted to an easily readable 10-point scale as below.
Health risk

Air Quality Health Index

Recommendations for activity

 

 

At risk population*

General population

Low

1-3

Do your usual outdoor activities

Do your usual outdoor activities

Moderate

4-6

Consider reducing or rescheduling strenuous activities outdoors if you have symptoms

Modify your usual outdoor activities only if you have symptoms such as coughing and throat irritation

High

7-10

Reduce or reschedule strenuous activities outdoors

Consider reducing or rescheduling strenuous activities outdoors if you have symptoms such as coughing and throat irritation

Very
High

above
10

Avoid strenuous activities outdoors

Reduce or reschedule strenuous activities outdoors, especially if you have symptoms such as coughing and throat irritation
* At risk population includes people at increased risk such as children; seniors; people with existing respiratory conditions including asthma, chronic obstructive pulmonary disease, bronchitis, emphysema or lung cancer; people with existing cardiovascular conditions including angina, previous heart attack, congestive heart failure or heart rhythm problems.
General population includes all individuals who are not noted above.
Ministry of Environment Conservation and Parks and Environment and Climate Change Canada Alerts have provided the below precautions for regions with Special Air Quality Alerts as a result of wildfires:
Wildfire smoke can be harmful to everyone's health even at low concentrations. Everyone can take action to reduce their exposure to wildfire smoke.
People with lung disease (such as asthma) or heart disease, older adults, children, pregnant people, and people who work outdoors are at higher risk of experiencing health effects caused by wildfire smoke. Speak with your health care provider about developing a management plan for wildfire smoke events and maintaining a supply of necessary medications at home and always carrying these medications with you during wildfire season.

Visit www.airhealth.ca for information on how to reduce your health risk and your personal contribution to pollution levels, as well as for current and forecast AQHI values.

Stop or reduce your activity level if breathing becomes uncomfortable or you or someone in your care feel unwell. Contact your health care provider or local health authority if you develop severe symptoms or need advice.

Check the Air Quality Health Index (AQHI) and monitor your symptoms. People respond differently to smoke. Mild irritation and discomfort are common, and usually disappear when the smoke clears. Drinking lots of water can help your body cope with the smoke.

If you have an HVAC system in your home, use the highest rated MERV filter for your system (ideally rated 13 or higher) and set the fan to recirculate air constantly. You can also use a portable High Efficiency Particulate Air (HEPA) air cleaner. Keep your doors and windows closed if the temperature in your home is comfortable.
Take a break from the smoke at a location in your community where you can find clean, cool air.

If you must spend time outdoors, a well-fitted respirator type mask (such as a NIOSH certified N95 or equivalent respirator) that does not allow air to pass through small openings between the mask and face, can help reduce your exposure to the fine particles in smoke. These fine particles generally pose the greatest risk to health. However, respirators do not reduce exposure to the gases in wildfire smoke. It is important to listen to your body and reduce or stop activities if you are experiencing symptoms.

Be sure to check on people in your care and those around you who may be more susceptible to smoke.

Reduce sources of indoor air pollution. If you can, avoid smoking or vaping indoors, burning incense and candles, frying foods, using wood stoves and vacuuming. Dust on indoor surfaces can be removed by wiping and wet mopping during a pollution episode.

If you experience any feelings of stress, anxiety, or depression, contact your mental health care provider for advice or visit https://www.wellnesstogether.ca/en-CA.
For more details, please consult the Government of Canada's Wildfire smoke, air quality and your health page. 
Date modified
June 12, 2023