Our Cemeteries
Cemeteries Updates

Caring for our Community
The staff at Hamilton Municipal Cemeteries are involved in a number of community events and support multiple local community causes and projects.
Our cemetery staff adopt a family and a senior each Christmas through the Adopt-a-Family Program with the Good Shepard Society. Cemetery Staff donate funds and items to help make the holiday season a little better for a family and senior in our community.
Our Staff are involved in several community and professional organizations: Dr Bob Kemp Hospice, Rotary Club of Hamilton, Neighbour to Neighbour, United Way of Burlington & Greater Hamilton, Soupfest, Ontario Cemetery & Funeral Professionals Association just to name a few.
Community Outreach Events
No Stones Left Alone Service
November
No Stones Left Alone service is an opportunity to honour the sacrifice and service of Canada's military by educating students and placing poppies on the headstones of veterans every November. No Stone Left Alone Memorial Foundation is among the leading agencies, dedicated to honouring and remembering Canada's veterans. The No Stones Left Alone Ceremony of Remembrance is a unique ceremony that provides students and youth with an authentic experience that creates knowledge, understanding and appreciation of those who serve and of the sacrifice of Canada's fallen.
Tree of Remembrance – Tribute of Lights
December 1 to January 8
The Trees of Remembrance display is an acknowledgement of lives that have been lived and the memories that endure. The three trees are lit from Dec 1 till Jan 7 in front of Hamilton Cemetery and Mountview Gardens Cemetery.
Field of Flags - Canada Day
July 1
The Field of Flags is a visual tribute to celebrate Canada Day. Canadian Flags are placed in front of Hamilton Cemetery Gate House for Canada Day.
Field of Flags
Week leading up to Remembrance Day
The Field of Flags is a visual tribute to Veterans and Service Personnel. Canadian Flags are placed in front of Hamilton Cemetery Gate House, and on Veteran's Graves in the Field of Hour at Woodland Cemetery the week leading up to and including Remembrance Day. The program will be expanded to have a display at Mountview Gardens and Mount Hamilton Cemetery.
Community Talks & Events
Various opportunities arise throughout the year to partner with groups, organizations churches etc. to attend (in-person/virtually) and share information about Hamilton Municipal Cemeteries.
2020 HMHC Heritage Recognition Award Recipient
Each year the Hamilton Municipal Heritage Committee presents the HMHC Heritage Recognition Awards. Founded in 2007, these awards celebrate the significant contributions of property owners, educators, developers and volunteers in the conservation of Hamilton's heritage. 2020 marks the 13th annual Hamilton Municipal Heritage Committee (HMHC) Heritage Recognition Awards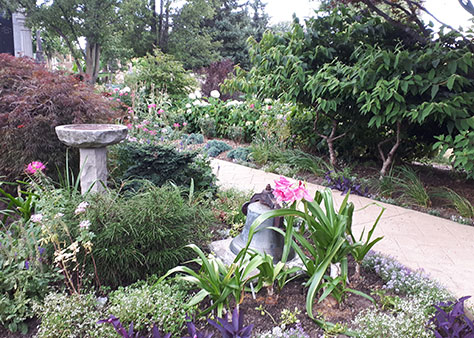 Hamilton Cemetery's Chris Schofield was recognized in the Cultural Heritage Landscape Award category for his efforts at Hamilton Cemetery. The Cultural Heritage Landscape Award recognizes the efforts of an individual or team who has demonstrated an outstanding contribution to the conservation of Hamilton's cultural heritage landscapes.
Since 2012, Chris Schofield has worked for the Hamilton Municipal Cemeteries and is the Cemetery Gardner at the historic Hamilton cemetery.
Chris takes great care & passion in looking after the extensive gardens at Hamilton Cemetery and has created a master plan for the gardens. His plan includes sustainable gardens, seed plantings and historical plant material reflective of several time periods around the Cemetery's Gate House and grounds.
Chris' goals are for the gardens to reflect and highlight the history of the Cemetery property as he has recreated several garden areas including the Ramparts, the remnants of Fort Burlington Heights.
Chris is experimenting with wild flower and pollinator seeds to create the plant list for the new Natural Burial Section at Mount Hamilton Cemetery. Over the past 2 years he has experimented with several plants and seedlings to create a wildflower/pollinator area near the rear of Hamilton Cemetery.
A virtual awards ceremony took place this year. To view all the award recipients and to see the video presentations visit HMHC Heritage Recognition Award Winners.
Sharing the Christmas Spirit
Hamilton Cemetery Staff helped spread the giving spirit this Christmas by adopting one family and two seniors as part of the Good Shepherd Sponsor a Family & Senior Program. Hamilton Municipal Cemetery staff donated funds to purchase all the items on their list, plus food gift cards.
Trillium Award of Excellence
Hamilton Cemetery received a 2020 Trillium Award of Excellence for the outstanding floral display and gardens. Congratulations to Cemetery Gardner Chris Schrofield and his team for creating and maintaining the beautiful gardens.
Learn more by reading our
Blog Series
What are my options?
Hamilton Municipal Cemeteries offers many options to honor loved ones. In recent years, funerals have changed and so too have the burial and cremation options available. "More and more people are looking for unique ways to memorialize and celebrate their loved ones," says Alex Moroz, Family Services Coordinator with Hamilton Municipal Cemeteries.
One of the largest municipal cemetery organizations in Canada and serving families for over 150 years, Hamilton Municipal Cemeteries operate 69 sites across the greater Hamilton area.
Today's choice for lasting remembrance offer opportunities to make a statement about the unique nature of a loved one's life. Hamilton Municipal Cemeteries provide an opportunity for loving tributes that reflects personality, comforts loved ones and preserves family history and heritage for generations to come, says Moroz in a recent interview with The Hamilton Spectator.
"Losing a loved one is never easy, but we can help carry the burdens of families as they go through the most difficult days of their lives." Traditional burials have always been popular but in recent years, there has been a rise in cremation services as well.
Moroz attributes this to the fact that there are so many more options in cremation than there were previously. It's not that it's more 'affordable', but rather that people are more knowledgeable about the many choices and pre-planning one's own funeral is also on the rise – both contributing factors. "Our goal is make sure people understand the many options available to them during such a difficult time," Moroz adds.
If cremation is your choice, Hamilton Municipal Cemeteries offers several interment options. Cremation is not a disposition, but rather a method of preparing the remains for memorialization. They are still human remains and should be placed in a dedicated location, he says.
Some of the options available for cremation include:
Ground Burial of Cremated Remains
There are special sections in the cemetery specifically designated for cremated remains. The cremation garden located in Woodland Cemetery for instance, offers a resting place to reflect the beauty and vibrancy of one's life.  Cremated remains can also be buried in traditional single or double lots in all of our Cemeteries provided space is available and permissions are in place

Columbarium
A permanent, above-ground structure that includes many spaces or niches for cremated human remains. A granite faceplate, which is finished with a bronze plaque or engraved granite allows the opportunity to memorialize your loved one. Some niches are surrounded with beautiful gardens and tranquil paths.

Cremation Benches & Family Estate Niches
A place with special meaning. Families planning their cremation estates have a variety of options available for the interment of cremated remains — including benches, family estate niches and columbariums. A cremation bench marks the gravesite of the deceased and serves as both a memorial and a place to rest, relax, and remember, while a family estate niche provides for the interment of family members in a small private niche that can provide opportunity for personalization and memorialization.

Natural Burial Options
An alternative may be the natural burial options at Mount Hamilton Cemetery. These cremation options include burial of an eco-friendly urn or scattering of ashes in the Scattering Garden. Natural Burial Section provides a common memorialization and a natural settings and gardens. The Natural Burial section is in the design and implementation phase. Families wishing to learn more can contact Hamilton Municipal Cemeteries.
Regardless of what you choose, says Moroz, the team at Hamilton Municipal Cemeteries is always willing to help with a caring, no-pressure approach to help you find the option to best suit you and your family for years to come. 
For more information, call 905-546-4704.
Pandemic changes how families say goodbye to their loved ones
Losing a loved one or friend is hard enough, losing a loved one or friend during a pandemic can seem overwhelming to deal with. The coronavirus pandemic of 2020-2021 is a challenging time for everyone. But if someone you love has passed away, it is likely that the current physical distancing orders and travel restrictions are making funeral and cemetery planning especially difficult for your family.
The Bereavement Professionals are here for you, trying to make funerals and graveside service meaningful. The grief process does not pause for a pandemic. The rituals and traditions of funerals, graveside services, and gathering with friends and family are vitally important to dealing with grief.
Funerals are meaningful and are essential rites of passage. Funerals have helped us acknowledge the reality of a death, remember the person who has died, support one another and mark the significance of a life that was well lived. Funerals provide us an avenue to grieve and heal.
The pandemic has changed the way we say goodbye. The limitations of public gatherings have limited the number of people coming together for the funeral or graveside service. There are no memorial services and celebrations of life with friends and family members. It is important that each family has the opportunity to say goodbye, to grieve, to celebrate a life and to start the healing process.
We understand that funeral and cemetery planning may be much more difficult right now. We hope the following ideas will help you find ways to address any hurdles you may be encountering.
Celebrate a life on line:
Use technology to live stream the funeral service in the chapel or at the graveside. This will allow friends and family members who could not be there in person, be part of the funeral

Create a memory wall of photos, tributes, and stories. Utilize the many online options to engage family and friends in sharing memories

Use social media to share photos and memories of loved ones. Facebook allows for Memorialized accounts that can be a place for friends and family to gather and share memories after a person has passed away.
Plan for after the pandemic
Once physical distancing regulations have been relaxed, plan a larger celebration of life or a meaningful service.

Celebrate a person's life by participating in the persons favorite sport, travel location or meal that can be shared with family and friends
Don't forget to reach out to each other. Use telephone, email or virtual tools to connect and stay in touch. Send a card or note to family and friends. Use the internet to access resources and gain ideas and ways to celebrate a life well lived.
Hamilton Municipal Cemeteries holds a special Remembering, A Holiday Memorial Service each December. This is an opportunity to reflect and pay tribute to the loved ones  in our lives. We extend a special invitation to all families, to join us in Remembering.
Why are Cemeteries Important?
Long after the funeral ceremony is over, the memories of a special life lives on. Today's choice for lasting remembrance offer opportunities to make a statement about the unique nature of that life. Hamilton Municipal Cemeteries provide an opportunity for loving tributes that reflects personality, comforts loved ones and preserves family history and heritage for generations to come.
What most people do not know about Hamilton Municipal Cemeteries;
Hamilton Municipal Cemeteries is one of North America's oldest and largest Municipally owned Cemeteries entrusted with 70 cemetery locations across our community.

Not just for casket burial, we offer many options for cremation interment (niches, Columbariums, cremation benches and family niches).

We will be offering Hamilton's only Natural Burial Section at Mount Hamilton Cemetery

We are steep in history. Take one of our free historical walking tours and discover the history and stories in the stones
Cemeteries are among the most valuable of historical resources. They are reminders of various settlement patterns, and can reveal information about historic events, religions, lifestyles, and genealogy.
Hamilton Municipal Cemeteries offers the Stories in the Stones historical walking tours each year. Every Saturday from May till mid-November, local Historian Robin McKee guides you through the history and stories. Each tour is themed and looks at the War of 1812 to Disasters to the Power of Women. History comes alive.
Cemeteries were the first parks
Cemeteries were the first parks. Prior to the early 19th century, there were certainly burial grounds where bodies were interred, often attached to churches or on a family homestead. But what arose starting with Mount Auburn Cemetery in Cambridge, Massachusetts, built in 1831, was a planned, managed space. Cemeteries provided the public with beautiful outdoor gathering spaces during a time when parks were still on the horizon of city planning.
Today our cemeteries are horticultural delights! Hamilton Cemetery has a large variety of trees and plant material. The gardens carefully planned to create a beautiful landscaped park like setting with unique and rare plant material. Walk the grounds and explore the Trillium Award winning gardens.
Date modified
January 10, 2023