Gardens & Trees
Rain Barrel Sale

2022 Rain Barrel Sale is now CLOSED.
The 2022 City of Hamilton Rain Barrel Sale is now over. Please check back in April 2023 for information on the next sale.
If you are still interested in purchasing a barrel, please visit www.rainbarrel.ca/greenventure.
Rain barrel details
Model: Sandstone Rain Barrel (pictured)
Cost: $75 per barrel (taxes included + free shipping)
Size: Approximately 23" wide by 38" tall
Weight: Approximately 24lbs (empty)
Capacity: 240 litres / 60 gallons
Rain Barrels include:
Leaf and mosquito filter basket
Overflow adapter and hose that allows multiple barrels to be connected in series
Spigot
Additional accessories can be purchased at a cost.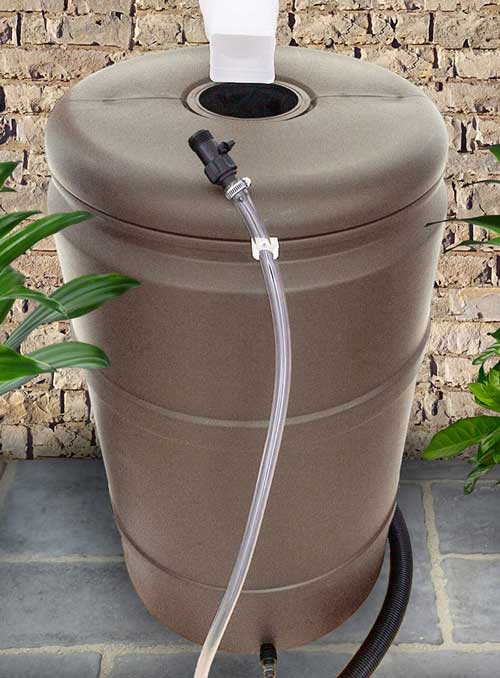 Rain Barrel Sale
Frequently Asked Questions
Rain Barrels are a good way for residents to capture water to be used in gardens and other outdoor uses that normally would go into the sewer. Rain Barrels also help with storm water management by removing the load on the sewer systems during a heavy rainfall.
The brand is called Sandstone Rain Barrel 240L / 60 Gallon. It is a 1 piece, brand new rain barrel.
No, the lid is part of the barrel's construction. The leaf and mosquito filter basket can be removed.
The only colour available for this sale is sandstone, pictured above.
The Rain Barrel holds 240L / 60 Gallons and is approximately 38" in height with a 23" diameter.
Yes, they can by connecting the overflow hose to another barrel. 
The overflow hose will direct any overflow away from your house. You can also buy multiple barrels and connect them together to capture more water during rain events.
The barrel should be completely emptied and stored in a garage if possible. If it is left outside make sure it is fully emptied, the tap is open and the top is covered to prevent water from entering or it can be turned up side down for the winter.
The home delivery option is available to all residents with an address within the amalgamated City of Hamilton.
Home delivery is the only option this year due to uncertainty around COVID-19. By having home delivery we could continue with the sale this year and still offer residents rain barrels at a discounted cost.
Deliveries are coordinated by rainbarrel.ca and there is no additional fee for delivery.
The email address is used to send a payment confirmation and may be used to contact you if there is an issue with your delivery.
*Disclaimer: This link will take you to a third party website, owned and operated by an independent party over which the City of Hamilton has no control ("3rd Party Website"). If you use this link, you do so at your own risk. Any use of the 3rd Party Website and any information you provide will be subject to and governed by the terms of the 3rd Party Website, including those relating to confidentiality, data privacy and security. The City of Hamilton makes no warranty or representation express or implied about and is not responsible and accepts no liability for the privacy practices or policies of the 3rd party, or goods and services provided by way of the 3rd Party Website including any loss, damage and any other consequence resulting directly or indirectly from or relating to your access to the 3rd Party Website or any information that you may provide or any transaction conducted on or via the 3rd Party Web site.
Date modified
July 06, 2022