Official Plan
Airport Employment Growth District Secondary Plan
The Airport Employment Growth District (AEGD) is a planned development area of 551 net developable hectares of employment land per the Secondary Plan. The Secondary Plan is bounded by Garner Road East and Twenty Road West to the north; Upper James Street to the east; Whitechurch Road West to the south; and, Fiddler's Green Road to the west.
The AEGD provides the opportunity to create a new employment area which improves live-work opportunities and helps meet provincial employment targets for the City. It supports the existing John C. Munro Hamilton International Airport as important infrastructure and as an economic driver, supports long-term prosperity, contributes to quality of life, and establishes a gateway for economic and goods movements for the City.
In particular, the AEGD is intended to offer a range of employment and employment-related land uses in the context of an eco-industrial park, which provides for prestige industrial, light industrial, airport-related business and institutional development as well as an environmental footprint that is managed through a range of urban design and eco-friendly sustainable design techniques. All of which allows for the development of land uses consistent with the character of surrounding lands.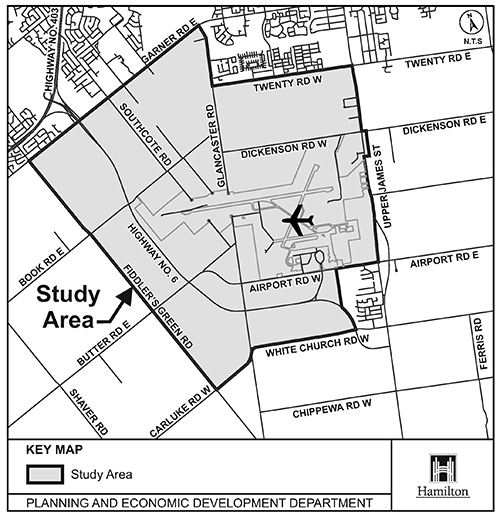 Date modified
November 21, 2022