Gardens & Trees
Free Tree Giveaway

The City of Hamilton is giving away Free Private Trees to Hamilton Residents. Plant a private tree on your property to improve air quality, fight climate change and increase property value. Trees must be planted on private property, preferably at the side or back of your home.
Pick-up Dates & Locations
The Private Tree Giveaway has now ended
Thank you to everyone who registered to help us plant 3000 new trees on properties across Hamilton. You can still submit a request to have the City plant a free tree on the front of your property visit www.Hamilton.ca/trees
Giveaway Details
Drive-thru contactless pickup. Rain or shine.
A variety of native tree species will be available, approximately 1 meter tall (2  gallon containers).
1 tree per address. Supplies are limited.
Identification with matching name and address required for pickup.
Do not arrive before your scheduled window as your tree will not be available for pickup.
Homeowner is responsible to plant, water and maintain private tree.
Call or click before you dig - OntarioOneCall.ca
Tree selections
Ironwood
Ostrya Virginia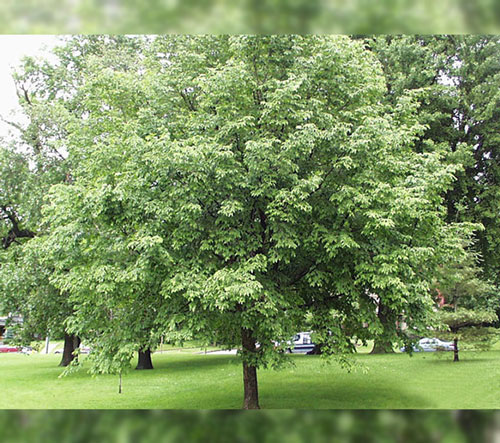 Tree and planting Information
Small deciduous tree native to Eastern North America
Bark is greyish-brown and divided into short longitudinal strips
The name Hop-Hornbeam comes from the fruits of the Ironwood, which resemble clusters of hops.
Brilliant yellow fall colour
Slow growing pyramidal in shape aging to a wide spreading crown and long slender branches
7 - 12 metre height / 6 - 8  metre spread
Plant in full sun to partial shade
Tolerant of many soil types, sandy or gravelly, well drained to droughty
Where to Plant
Small specimen tree for street or understory planting
Naturalized planting to attract birds and small mammals
Areas where space is limited
Plant at least 6 meters from a building or other tree
---
Sassafras
Sassafras Albidium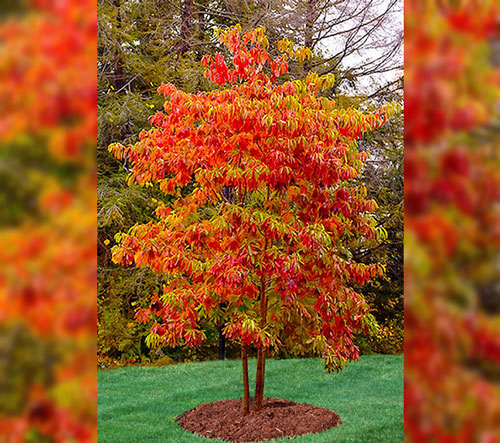 Tree and planting Information
Small, fast growing tree
Up to 9 - 20 m in height 7 - 10 meters wide
Moist to dry soil conditions and is very adaptable
All parts of the plants are fragrant with a spicy odour
The flowers are small and yellow, and the fruit is dark blue on a red stalk
Bark is orange-brown with deep grooves and forms soft corky ridges when it matures
Fall colour is a mix of yellows, oranges or reds.
Where to Plant
Small specimen tree for street or understory planting
Naturalized planting to attract birds and small mammals
Areas where there is a large space
Plant at least 6 meters from a building or other tree
Can grow in full shade or full sun
---
Eastern Flowering Dogwood
Cornus Florida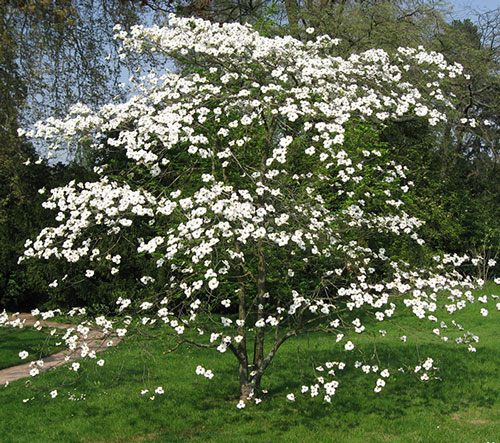 Tree and planting Information
Small, slow growing tree that reaches 3 - 10 metres in height and 4 - 7 m wide
Flowering dogwood is easily recognized in spring when 4 large white flower-like bracts appear before the leaves expand.
Leaves are opposite, simple, often with wavy edges and turn red in the fall
The bark of larger trees is brownish-grey and separated into scales, giving it the appearance of alligator ski.
Tiny yellow flowers grow in clusters at the ends of small branches and are surrounded by four large, showy white leaves that look like petals.
The fruits are also bright red, in clusters of two to six and may persist after the leaves have fallen
The red fruits are bitter and inedible to humans but are enjoyed by many birds and small mammals in the fall. 
Prefers well-drained, slightly acidic soils
Where to Plant
Small specimen tree for street or understory planting
Naturalized planting to attract birds and small mammals
Areas where space is limited
Plant at least 6 meters from a building or other tree
Used as an ornamental and many horticultural cultivars exist
Prefers light shade or full sun with ample moisture
---
Eastern Redbud
Cercis Canadensis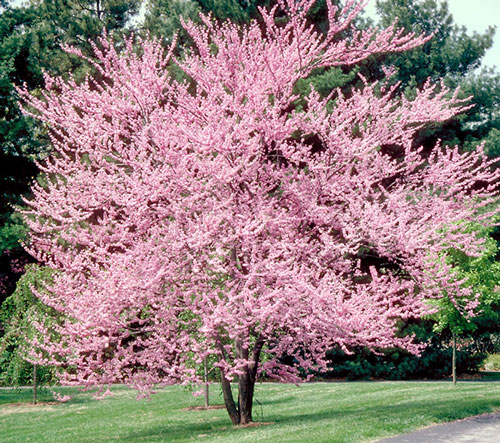 Tree and planting Information
Small tree, 4 - 8 m high and 5 - 7 m wide
Rounded, spreading crown and forking branches
Twigs are slender and zig-zagged
Older bark is scaly and reddish-brown with orange-red patches
In fall, leaves turn yellow.
Eastern redbud's pink flowers offer one of the most colourful springtime displays.
Flowers before the leaves emerge
Where to Plant
Small specimen tree for street or understory planting
Areas where space is limited
Plant at least 6 meters from a building or other tree
Used as an ornamental in parks, front yards and boulevards
Prefers light shade or full sun with ample moisture
---
Downy Serviceberry
​​​​​​​Amelanchier Arborea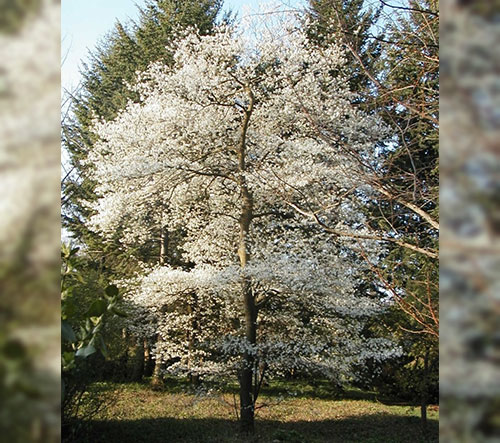 Tree and planting Information
Medium growing deciduous shrub with an upright spreading habit of growth
Grows to about 6 m tall and 3 - 4 m wide
The bark is gray and smooth but streaked with longitudinal fissures; often with a reddish cast
Leaves are oval or round, less than 8 cm long, with fine teeth on the edges
Clusters of white flowers appear in spring and tasty berries ripen early to mid-summer
Small, edible berries are reddish-purple
The deciduous leaves of downy service-berry may turn wine-red in fall
Where to Plant
Small specimen tree for street or understory planting
Areas where space is limited
Plant at least 6 meters from a building or other tree
Used as an ornamental in parks, front yards and boulevards
Prefers shade to full sun  
Adaptable to different soil conditions, but grows best in moist, deep, well-drained soils 
It is a good choice for attracting birds to your yard
Date modified
July 06, 2022