Riding with HSR
HSR Customer Research Panel

Welcome aboard!
HSR Customer Research Panel
From time to time, HSR conducts research with customers. Join our panel today and you may receive periodic invitations to participate in upcoming research activities. These activities may include surveys, focus groups, interviews, travel log studies and more.
Help us improve your experience when riding transit.
Travel Log Study
The HSR Travel Log Study is a collaboration tool between our bus service and you, the customer.
By participating in the study, you can help us: 
Understand more about our customers' travel patterns. 
Improve our methods for counting the number of trips taken daily. 
Improve your experience when riding transit.
How the log works
You'll record each trip you take on HSR in a printed logbook or online. You'll track where you leave, where you go, why you go, the time of day, the route(s) you take and any other observations you'd like to share with us.
Who is eligible?
We need the study to reflect the diverse ridership of HSR, so we'll select participants based on certain criteria. If you are not selected this time, we may ask you to participate in future studies.
How can I confirm my invitation?
We will contact you through email or by phone if you are selected to participate with instructions.
---
Winter 2021 Study Recap
This past November and December, 184 of you tracked over 2,400 trips on HSR transit! In doing this, you helped us gather insights into travel patterns and gave us another way to estimate the number of trips that are taken daily on our service. We're still crunching the numbers and will be using the information to help inform future projects. We're excited to share some preliminary findings with you below. Thank you to everyone who participated in the November- December 2021 study!
Congratulations to the winners of the draw for PRESTO prizes!

1st Prize $500 in PRESTO value: Nimmi S. of Strathcona
"My experience with the HSR Tavel Log Study was very positive. It was well organized and easy to understand how to complete the survey to log my travel each day. Winning this prize couldn't have come at a better time for me as I was recently laid off due to covid restrictions. This prize will ease some of my financial stress during this difficult time and for that, I am extremely grateful."
2nd Prize $300 in PRESTO value: Jacob N. of Corktown
"I wanted to have input on the routes that I use daily as well as on weekends, show a window on my ridership routes and usage. Hopefully have input on future schedule and route decisions."
3rd Prize $100 in PRESTO value: Jennifer H. of Winona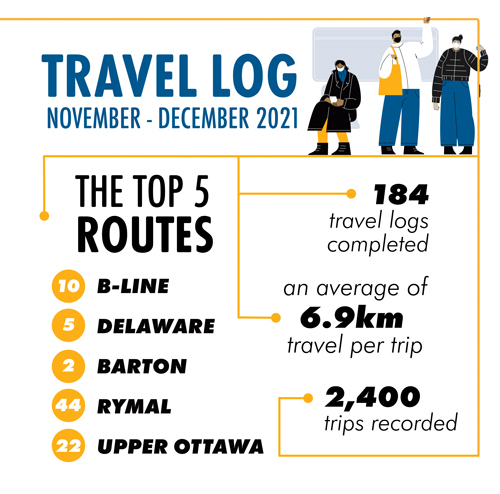 Description: Travel Log November-December 2021. Top 5 Routes: 10 - B-Line, 5 - DELAWARE, 2 - BARTON, 44 - RYMAL, 22 - UPPER OTTAWA. Notable Stats: 184 travel logs completed, 6.9 km trip average, 2,400 trips recorded.
Date modified
September 01, 2022