Environmental Assessments
Block Servicing ‎Strategies for Stoney Creek and Gordon Dean

Contact Us
To share your concerns, find out more or be added to mailing list, contact:
Block 2
Margaret Fazio
City of Hamilton
71 Main Street West, 6th Floor
Call 905-546-2424 ext.2218
Email [email protected]
Block 1 & Gordon Dean Class EA
Angelo Cutaia
Project Manager
AC III Group Inc. on behalf of
Fruitland-Winona Development Group
3380 South Service Road, Unit 104
Burlington
Email: [email protected]

Mir Ahsan Talpur
Environmental Planner
Wood Environment & Infrastructure Solutions
3450 Harvester Rd, Suite 100, Burlington
Email [email protected]
Block 3
Rob Merwin
Urbantech West
2030 Bristol Circle, Suite 201,Oakville
Call 905-829-8818 ext.102
Email [email protected]
The property owners within the Block 1 Servicing Strategy area (bounded by Highway No.8, Fruitland Road, Barton Street and just east of Jones Road) have initiated the Block 1 Servicing Strategy and a Municipal Class EA process (Phase 3 and Phase 4 only) for Gordon Dean Avenue that will extend between Barton Street and Highway No.8 within the Block 1 Area.
Gordon Dean Avenue
In 2011, the City of Hamilton completed Phase 1 and 2 of the Class EA for Fruitland Road. At that time, the recommendation was that trucks use a new road, travelling north-south, east of the existing Fruitland Road between Highway 8 and Barton Street. Phase 3 of the assessment has now been completed, and alternative designs as well as the recommended preferred design will be reviewed.
Status: Completed (2021)
Block 1, 2 & 3 Servicing Strategies
Block Servicing Strategies 1 and 2, are within the areas outlined by the Fruitland-Winona Secondary Plan and include the layout of stormwater ponds, water and wastewater services and local road networks, within the updated natural heritage constraints. Block 2 Servicing Strategy is being conducted by the City of Hamilton.
Status:
Block 3 - Completed (2020)
Block 2 - Completed (2018)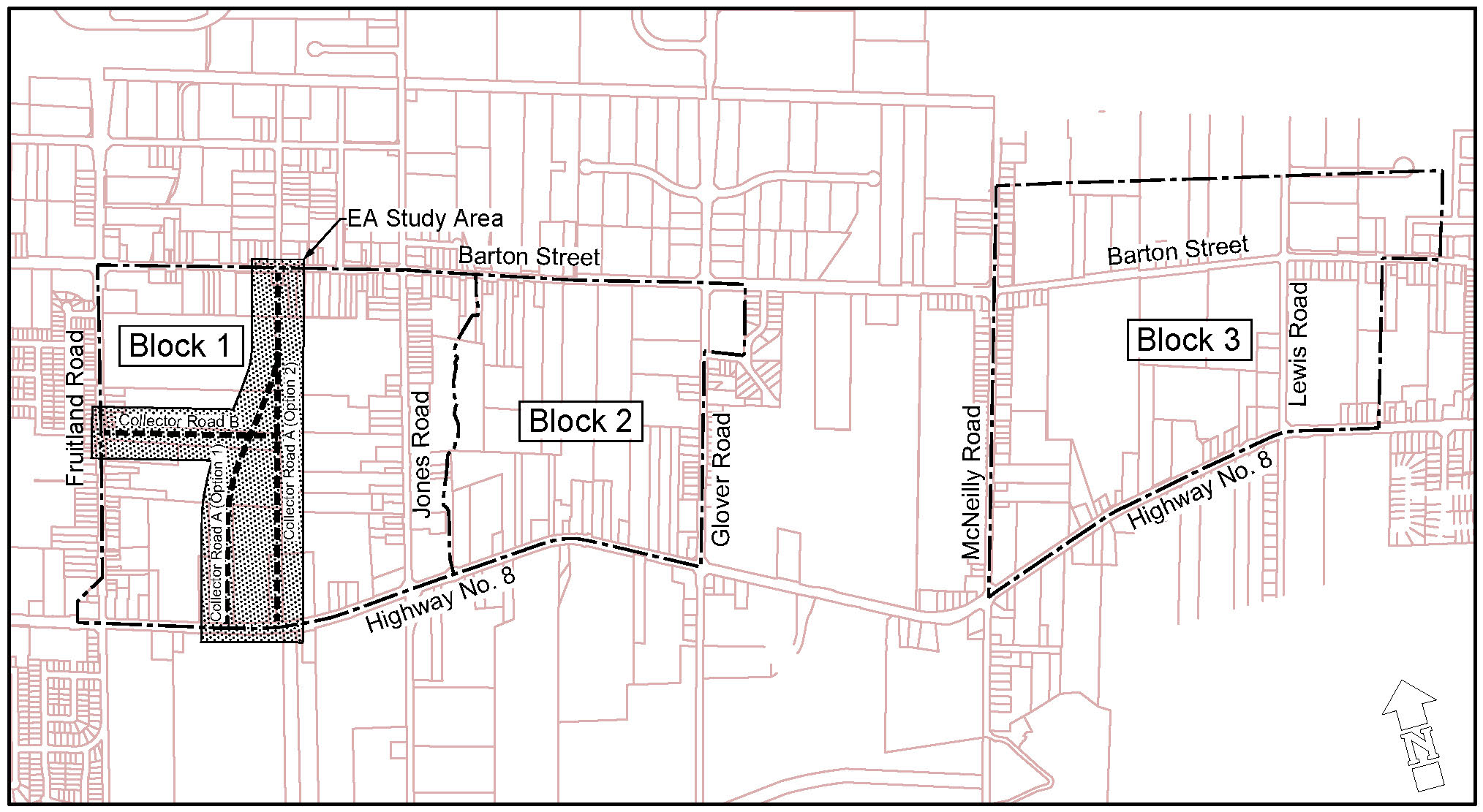 Project Update (Dec. 2022) - The project has been appealed (Section 16 of the Environmental Assessment Act). The letter is addressed to the representative of the Block 1 Servicing Strategy Development Group Representative as the future Gordon Dean Avenue is located within their study area. Download the Ministry Appeal Letter(PDF, 145.73 KB)
Date modified
2023-09-19 15:09