Environmental Assessments
Barton Street and Fifty Road Improvements

Engage Hamilton
We want to hear from you!
Get involved in the improvements for the Barton Street and Fifty Road. These improvements are intended to better serve our community by enhancing ways in which you commute such as by car, truck, transit, bike or on foot.
The City of Hamilton initiated the Class EA process for improvements to Barton Street and Fifty Road. Barton Street and Fifty Road are truck routes, which form exit and entrance points to the Queen Elizabeth Way (QEW) and Highway 8, and are classified as major arterial roadways.
Since the Fruitland-Winona Secondary Plan is currently under appeal at the OMB, some outcomes of hearings may affect land uses abutting this study area, along Barton Street, but both roadways will service the new urban area created under the Stoney Creek Urban Boundary Expansion (SCUBE) Plan. The study will also be informed and affected by Block Servicing Strategies 1, 2 and 3, within Fruitland-Winona Secondary Plan Lands.
Location: The study area is roughly located along Barton Street Right-of-Way, with the proposed width of 40 m (including a 4 m Wide Pedestrian Promenade), between the intersection with Fruitland Road and Fifty Road, and along Fifty Road – improvements to include widening between QEW and Highway 8, and CN Rail crossing.  
Study status: Active
Classification: Schedule C (Phases 3 and 4)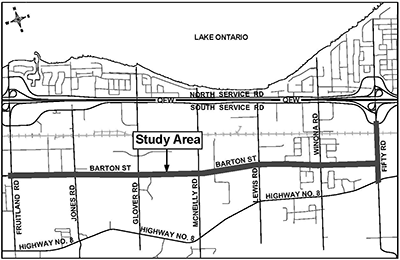 Date modified
2022-08-16 10:46