Construction in Your Area
Highway 8 Improvements Project
Read the story
Hwy 8 Road Improvements Project
Highway 8 will be completely closed between Bond St N & Woodleys Ln from April 2021 to December 2022.
On April 12, 2021, Highway 8 in Dundas will be completely closed between Bond Street North and Woodleys Lane until December 2022 as part of the Highway 8 Improvements project.
Project Details
During this time, Highway 8 will receive these upgrades:
Road reconstruction
Spencer Creek bridge replacement including associated retaining walls
Bike lane and shoulder installation
Sidewalk replacement in the same existing locations
Watermain installation/replacement
Storm sewer installation/up-sizing & replacement including outfall & headwall structures
Slope stability improvements
Retaining walls installation (south and north sides)
Street lighting pole relocation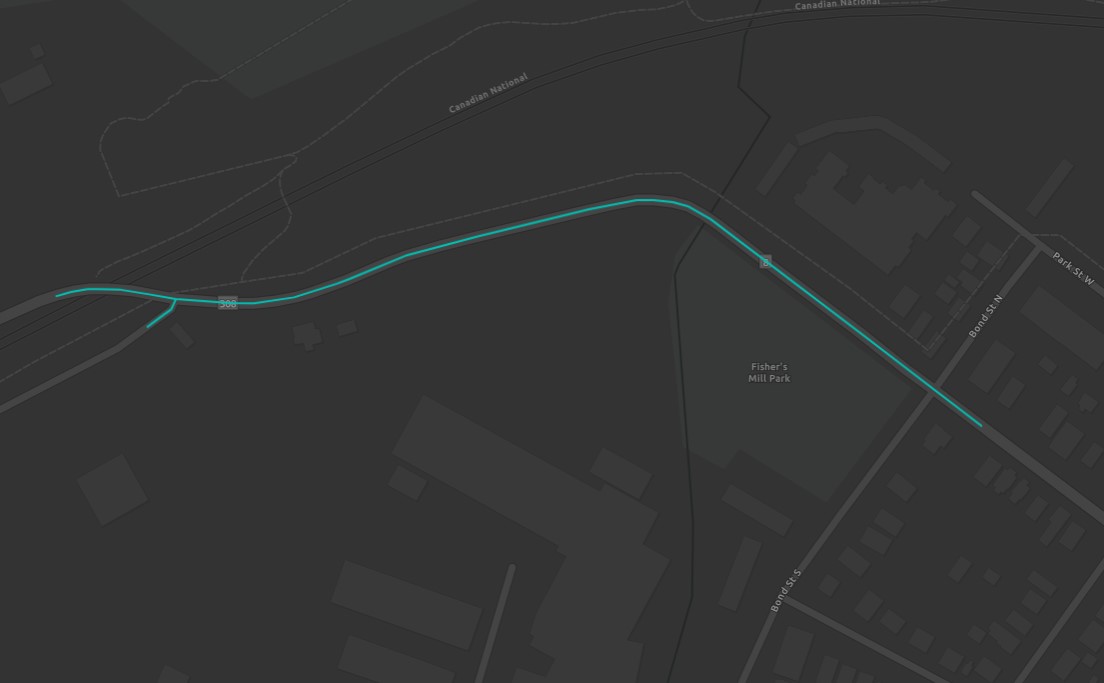 Access During Project
During the first phase of construction, access to the Dundas Valley Golf & Curling Club will be maintained from the bottom of Highway 8 at Bond St N.
During the second phase of construction, access to Dundas Valley Golf & Curling Club will be maintained from the top of the Highway 8 hill.
Bruce Trail visitors will be unable to access the trail at Woodleys Lane and Highway 8 for the duration of the construction project.
Throughout the entire construction period, access to local properties east of the Spencer Creek bridge will be maintained from the bottom of Highway 8 at Bond St N and Park St W. As well, local properties west of the Spencer Creek bridge will be maintained from the top of the Highway 8 Hill.
Public Consultation
Public Information Centre
Held April 6, 2021
Summary of commonly asked questions from the Public Information Centre:
What guarantee is in place to ensure the construction costs will not increase?
If construction costs are expected to increase, it must be presented back to Council first. Furthermore, a contingency allowance has been provided with this contract to ensure any unforeseen issues can be addressed within the approved budget.
How many construction companies were in the bidding? What criteria was used in selecting the successful bidder?
There were 8 contractors who bid on this project. The standard process within the City is to select the most cost-efficient bidder.
For residents who live directly within construction boundaries, will they be able to access their driveway during construction and will they still be able to receive mail and parcel delivery?
Yes, access will be provided to your residence. Minor disruption may occur, however advance warning will be provided in this case so that alternate arrangements can be made. Postage services will not be impacted.
Will any viewing jutouts be included to allow people who walk down the roadway or cycle down an opportunity to stop comfortably and take in the breathtaking view and perhaps take photos of Dundas and Hamilton in the background to send to friends and family around the world?
We understand that having an option for public viewing location would be preferred on this section of roadway, unfortunately, this was not determined to be a part of this project.
Why is this portion of road being reconstructed, when it was recently closed and repaired in 2019?
In 2019 the road failure required the City to close this section of roadway to install a temporary solution in advance of the reconstruction project already scheduled for 2021 as part of the Phase 2 works.
If (or when) any historical artifacts are found during this project, what steps will be taken to excavate and preserve them and who will be involved? In other words, is there an historical artifact recovery plan (should one be needed)? 
During any excavations east of Spencer Creek, an Archaeologist will be present to provide guidance if so required. Should any artifacts be uncovered, appropriate actions at the direction of the Archaeologist will be taken.  
For the last number of months there have been a profusion of bright orange/red plastic markers tied around many trees, as well as along the #8 and on the slope below and to the east of my house. Do the orange markers indicate these specific trees are to be cut or replaced?
No, the bright orange/ red plastic markers do not mean that the trees will be removed.They are for tree inventory and other construction related reasons. Please do not remove any markers from the trees, this will be completed by staff once construction is completed.
How many trees will be removed as a result of this project? Who is overseeing this from a land management perspective beyond the construction company? Will native species be used?
Over 140 trees and shrubs were planted within the project area in 2022. Design drawings below outline the species and quantities of trees and shrubs planted as part of this project, following approval from the Hamilton Conservation Authority.
How come in areas where there is a paved shoulder, you couldn't have put in sidewalks? Especially west of the bridge?
It was determined during the functional design process that implementing and widening the shoulders was more appropriate at the rural cross-section (west of the Spencer Creek).Further, widening of the right of way to allow for sidewalks would have direct impacts to existing utilities, the escarpment and the additional removal of vegetation/trees, resulting in an impact to wildlife. The City would have required additional purchase of private land and land owned by CN Rail, which would have created significant delays to the project.  
What are the working hours for this project?
The normal working hours for this project will be Monday to Friday from 7 am to 5 pm. 
What was the rationale behind the choice of detour routes?
The detour routes were established with many factors in mind, including truck routes, arterial roads, and to ensure the additional traffic does not have a great impact to local neighborhoods. We appreciate motorists and cyclists patience as the City completes these important infrastructure improvements. 
What is the proposed detour for the Bruce Trail?
Learn more about the impacts to the Bruce Trail.
Date modified
November 29, 2022