dental health
Dental Health Bus
Our dentists provide free emergency dental services such as x-rays, dental fillings, extractions or removal of teeth, and antibiotics for dental infections for Hamilton adults with low income and no other dental coverage. 
Come to the location where we park the bus to see a dentist.
No appointments are booked; we see you on a first-come, first-serve basis.
Priority is given to people with emergencies.
Clients with Ontario Works or Ontario Disability Support Program coverage cannot access dental services on the bus.
Hours: 8:30 am to 4:30 pm. Closed from 12 noon to 1 pm. Clients must register before 3:15 pm.
Public washroom access may not always be available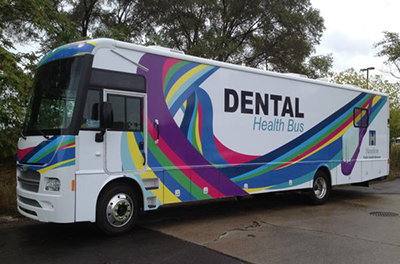 Important - Please bring a list of your current medications and/or the name of your pharmacy with you. Patients are assessed based on urgent dental need rather than order of arrival. Staff assess patients at 8:30 am and 1:00 pm and at other times when possible. Clients must register before 3:15 pm. While we try to see as many patients as we can, unfortunately we cannot always treat everyone who arrives with dental emergencies. We thank you for your understanding.

Inclement Weather in the event that both the Hamilton-Wentworth District School Board and the Hamilton-Wentworth Catholic District School Board are closed due to inclement weather, the Dental Health Bus will be closed.
In order to minimize the risk of COVID-19 transmission:
We ask that clients arrive wearing a mask. For those who do not have a mask, one will be provided.
Social distancing remains one of the most effective ways to stop COVID-19 transmission and we ask all bus clients to observe a 6 ft spacing between each other for everyone's safety
All clients will be screened for COVID-19 symptoms
Dental Health Bus
Locations & Schedule
The Dental Health Bus is open:
Monday to Friday, 8:30 am to 12 noon and 1 to 4:30 pm. Clients must register before 3:15 pm.
The bus is closed for all Statutory Holidays. Also closed when both Hamilton-Wentworth District School Boards are closed for inclement weather.
Dental Health Bus Schedule
Day
Location
Closures/Changes
Monday
Central Memorial Recreation Centre
93 West Ave. S, Hamilton
April 17 - Moved to Norman Pinky Lewis
May 22
May 29 - pm only
June 5 - closed pm only, open 8:30 to 11:30 am
Tuesday
Dominic Agostino Riverdale Community Centre
150 Violet Dr, Hamilton - off Centennial Pkwy
 
Wednesday
Neighbour2Neighbour
28 Athens St, Hamilton (off Mohawk between Upper James St & West 5th St)

June 7- closed pm only, open 8:30 to 11:30 am
June 14 - closed pm only, open 8:30 to 11 am
June 28 - closed pm only, open 8:30 to 11:30 am

Thursday
East Kiwanis Boys and Girls Club
45 Ellis Ave, Hamilton (at Barton St & Ellis Ave)
 
Friday
Norman Pinky Lewis Recreation Centre
192 Wentworth S. N., Hamilton
March 31 - Moved to Central Memorial
April 14 - Moved to Central Memorial
June 2 - CLOSED
Download the April to June 2023 Dental Health Bus Schedule(PDF, 83.63 KB)
Date modified
June 02, 2023